A funny thing happened to Scot Pollard last summer as he exited a showroom in a Las Vegas casino.
"Somebody came up to me and thought I was Dennis Rodman. I asked them to adjust their glasses," Pollard said with a laugh.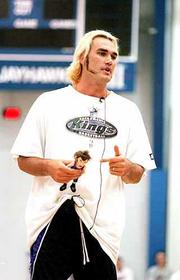 How could somebody confuse Pollard, a former KU forward, with the former NBA bad boy?
Well, both are tall, muscular, wear exotic clothing and color their hair various shades of yellow, red and/or orange, depending on their moods.
Coincidentally the two also have similar styles of play on the court, showing little interest on the offensive end, preferring to rebound, take charges and block shots.
"Pushing people out of the way and stealing the ball is easy for me," said Pollard, a 6-foot-11, 265-pound forward who is in his fourth year with Sacramento. "It's something I have a knack for. I don't mind getting hit and elbowed. I take pride in the fact I'm willing to do things some guys will not do. I'll take a charge with the best of them."
Pollard, who averaged 6.5 points, 6.0 boards and 21.5 minutes for the Kings last season, would have seen his role increase dramatically had Sacramento been unable to reach terms with free agent forward Chris Webber, who in late July signed a seven-year, $123 million contract extension.
"Keeping him means we will stay a contender," said Pollard, who last year signed his own six-year, $30.89 million deal. "I think we're going to be better than we were this year and of course with Webber, it makes my job easier.
"Chris plays 45 minutes a game and is an all-star," Pollard added of Webber, who averaged 27.1 points, 11.1 boards and 45 minutes during a 55-27 season. "If he'd had signed with somebody else, we'd have lost credibility around the league."
In late June, the Kings also strengthened their backcourt by shipping flashy point guard Jason Williams to Memphis for steady playmaker Mike Bibby.
"I will miss Jason as a person," Pollard said. "I loved Jason. He always had something funny to say, whether doing a magic trick or telling a joke. Basketball-wise we made out well with the deal. We got Bibby, who is a consistent point guard who distributes the ball well.
"I am going to make sure I punch Bibby the first time I see him," Pollard added. "He beat us my senior year."
In 1997, Bibby's Arizona Wildcats stopped KU, 85-82, in an NCAA Tournament Round of 16.
"I won't stop talking to him about that," said Pollard, who since his NBA career started has made Lawrence his offseason home.
That Arizona loss ended a 34-2 KU season. The Jayhawks won 115 games and lost 21 during Pollard's four-year KU career.
"I wouldn't change a thing about my college career. I wouldn't be in the NBA if I'd gone anywhere else," said Pollard, a San Diego native who chose KU over Arizona, UCLA, Brigham Young, Arizona State, Oregon State, Washington and LSU.
"Two of the colleges on my list (UCLA, Arizona) won national championships while I was in college. If I'd gone to those schools I would have won a championship, but I would not be in the NBA without the work ethic I learned at KU.
"When I came to Kansas, I was a young kid coming from Southern California who was a flake," Pollard added with a laugh. "Coach (Roy) Williams taught me to at least work hard on one thing (basketball). It's why I got my big contract. He taught me to dedicate myself."
Pollard grew emotional in last week's interview with the Journal-World when discussing Williams, a person Pollard has embraced as a father figure. Pollard's dad, Pearl, died during his high school years.
"Coach Williams has always been there to help me with life decisions," Pollard said. "Last summer I was ready to put my house on sale and leave Lawrence when it looked like he was going to take the North Carolina (coaching) job. Without coach, there's no reason to stay."
Pollard said Williams was there for him his rookie year in the NBA when he came quite close to leaving the Detroit Pistons at midseason. Pollard, a first-round pick of the Pistons in the 1997 NBA Draft, was miserable getting mop-up minutes on a squad with little chemistry.
"I was not playing. I was not being respected at all except by a couple of players Joe Dumars and Rick Mahorn. I talked to coach Williams. He told me, 'You've got three years left on your deal. Why quit now? Things tend to change,''' Pollard said.
"Shortly after that, Joe pulled me aside and said, 'This is not what the NBA is like always. You will be in the league a long time if you stick it out.' I have to thank coach, Rick and Joe for their advice."
Pollard stuck it out and now is a rich man.
He will be making $4,344,188 next season with escalating yearly salaries of $4,826,876, $5,309,563, 5,792,250 and $6,274,9347 through 2006.
"There's a lot of responsibilities that go with lots of money," said Pollard, whose famiy consists of wife Mindy, daughter Lolly and Great Danes Otis and Cookie. "It gets difficult at times but it definitely beats working for a living."
Pollard, 26, said he has no plans of leaving Lawrence as a home base anytime soon.
"I like coming back here in the summer. In Sacramento everybody knows me. Here I get to disappear. Nobody cares who I am anymore. They care about the college kids, and that's the way it should be.
"Once in a while somebody will come up to me and say, 'You were great at KU. What have you been doing the last four years?' Somebody might say they saw me on TV for the Kings but mostly they don't know who I am."
The outgoing Pollard said he'll consider a career as an NBA analyst after his playing days are over.
He won't, however, get into coaching.
"I'll die young if I become a coach," Pollard said. "It's not my personality to deal with people not doing what you tell them to do."
Copyright 2018 The Lawrence Journal-World. All rights reserved. This material may not be published, broadcast, rewritten or redistributed. We strive to uphold our values for every story published.