Pack your patience.
That's the best advice officials from Kansas University's Department of Housing have today as thousands of box-lugging students move to campus.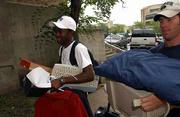 "It's hot, first of all," said Steve Horn, a residence assistant at McCollum Hall. "You have students and oftentimes parents, brothers and sisters there. Everybody's stressed out and nervous, trying to figure out what to do. It's really a stressful time."
Most of the approximately 5,000 students living in KU's seven residence halls and 10 scholarship halls move in beginning at 8 a.m. today. Residents of Jayhawker Towers began moving in Friday.
That means Daisy Hill will be lined with pickup trucks and U-Hauls loaded with boxes, clothing, bicycles, mini-fridges and all other necessities for college life.
Diana Robertson, associate director of housing for residence life, said unloading vehicles curbside near the halls and then finding a parking space farther away, even at the Lied Center would help alleviate traffic.
Spots in elevators can be as precious as parking spaces. Housing employees keep an eye on overcrowding. Six people are typically allowed on an elevator, but heavy boxes can throw that formula off.
Mitzi Swaffar, another McCollum RA, said, "You should use the stairs as much as possible."
Carts for moving boxes also are a hot item at the dorms. Horn said McCollum has 20 carts, but there's almost always a waiting list.
Students will have some help moving in today. Al Bohl, new athletics director, will help students at 1 p.m. at Templin Hall. UPS workers will pitch in at Oliver Hall. And Coca-Cola will provide drinks for movers. Dining centers also will be open from 10 a.m. to 3 p.m. today.
The worst pain from move-in day might not be backaches. Swaffar said bidding goodbye to parents especially for freshmen is difficult.
"It's always going to be hard," she said. "Maybe it's even harder for parents. My best advice for the parents would be their kids are adults now and they're going to have to start making their decisions."
Swaffar, a junior in nursing, encouraged parents not to hover too closely while students are moving in.
"It's definitely a good time to start meeting people," she said. "I know people are going to want to unpack their stuff and get settled in, but Hawk Week activities start up Sunday night. There's plenty of time to keep unpacking because school doesn't start until Thursday."
Copyright 2018 The Lawrence Journal-World. All rights reserved. This material may not be published, broadcast, rewritten or redistributed. We strive to uphold our values for every story published.