Orville Moorman's propensity for collecting white elephants has been paying off for more than 30 years.
That's how long Moorman, who sees treasure in other people's trash, has been "Dumpster diving" at Kansas University residence halls, fraternities and sororities, recycling what he finds and selling it back to students who return to Lawrence each fall.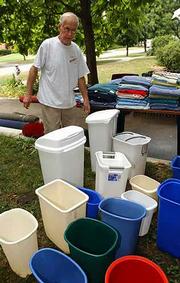 Twenty-five plastic wastebaskets, 250 bath towels and 1,000 bed sheets are among the stacks of items he's salvaged, washed and priced to sell in a giant yard sale this weekend just in time to catch KU students moving into residence halls.
Moorman ran into some financial difficulty a few years back when he was conned by contractors he hired to work on his home.
Although he'll probably soon be moving out of the three-story, 13-room house at 1516 Mass. it's a little big for just one man, especially one about to celebrate his 80th birthday he's found an interesting way to pay the bills in the meantime.
A regular pack rat
"I like to collect stuff," Moorman said Thursday as he sifted through stacks of T-shirts and comforters. "I hate to see the stuff go to waste."
Just about every couch, chair and table in his house once sat in a university building. As they were discarded through the years, Moorman hauled them home, refinished them and had them reupholstered.
"If I took everything out of this house that I got at the university, there wouldn't be much left," he said.
Moorman may be exaggerating. Besides his obsession with scavenging, he also invests in more valuable collectibles at antique auctions.
His accumulation of old silverware fills a wooden chest, and his dining room is nearly wall-to-wall china cabinets, brimming with glass and ceramic pieces.
A Lawrence son
Moorman came home with 14 truckloads when he made the rounds at the university this spring.
He remembers the years when loot wasn't as easy to come by.
"People didn't throw as much stuff away," he said. "And the university wasn't as big then."
Living here his entire life has given Moorman a chance to watch the city grow.
He retired from Reuter Organ Co. in 1985 after 40 years. The company moved earlier this summer to a facility at the northern edge of town that's twice the size of the downtown building where Moorman toiled.
Moorman says he's trying to cut back on collecting what students toss, but old habits die hard.
"The days I don't go up there, I wonder what I miss," Moorman said. "I figure what I don't know won't hurt me."
Copyright 2018 The Lawrence Journal-World. All rights reserved. This material may not be published, broadcast, rewritten or redistributed. We strive to uphold our values for every story published.