Kevin Heaton's wait is nearly over.
Stone Canyon, the Kansas City-area restaurateur's entry into the Lawrence market, is expected to open Aug. 27 southwest of Sixth Street and Comet Lane.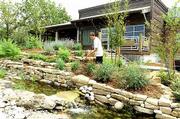 The opening would come nearly nine months later than he anticipated, as transformation of a Cold War-era house proved to be a tall order.
Aside from building a patio for 70 seats and installing plenty of metal artwork, construction crews had to reinforce the 8-inch-thick concrete roof and drive structural steel to support original 6-inch-thick floors.
"You don't create a look like this by tearing down a building and putting up a new one," Heaton said. "It was a little more difficult, but I look at the end result as spectacular."
Stone Canyon, 3801 W. Sixth St., has hired about 70 employees for the Lawrence restaurant, with its menu based on Heaton's Stone Canyon Pizza in Parkville, Mo. He also owns The Phoenix Piano Bar & Grill at Ameristar Casino in Kansas City, Mo.
In Lawrence, Chef Dave Knubley promises "upscale" pizzas, saut pastas, Italian sandwiches and entree salads.
David Clemente, whose construction company is handling the project, said the restaurant could open even without a paved road to get there. Both Comet Lane and Seventh Street, the only two roads with access to the restaurant, remain unpaved.
"Unfortunately, for the first few weeks you may have to go down 200 feet of gravel to get to it," said Clemente, who co-owns the building with John Bush.
Copyright 2018 The Lawrence Journal-World. All rights reserved. This material may not be published, broadcast, rewritten or redistributed. We strive to uphold our values for every story published.