Cape Canaveral, Fla. — With only a few days left until they part company, the three new residents of the international space station formally accepted the reins from their predecessors Friday and wished them bon voyage.
Russian cosmonaut Yuri Usachev, the space station's commander for the past five months, shook hands firmly with his replacement, American astronaut Frank Culbertson.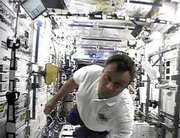 "Now it's time to pass the station from our hands to your hands, from our mind to your mind, and from our heart to your heart," Usachev said in a 250-mile-high ceremony.
"We will pick up where you left off," replied Culbertson, the new skipper. He added: "Bon voyage, spasibo bolshoye, thank you for everything. You guys are the best."
All 10 space travelers dressed in varying combinations of red, white and blue, the colors of both countries' flags took part in the ceremony. It was held four days after the official change in space station command, and had been delayed by all the moving work.
Space shuttle Discovery's astronauts hurriedly carted gear in and out of space station Alpha on Friday to clear the decks for one last spacewalk. The main objective of today's outing the second in three days was to lay more cable on the exterior of the space station.
NASA approved the spacewalk after the crews indicated they were almost done transferring thousands of pounds of supplies. But the outing was trimmed by an hour to give the astronauts more time to pack.
As much as he likes the astronauts who delivered him, Culbertson said he'll be somewhat glad when they leave aboard Discovery on Monday, taking with them the former space station residents.
"I'm going to think, well, finally the station is ours and we can operate freely without bumping into a lot of people," Culbertson said. "But no, we're going to miss these guys. It's going to be an interesting feeling to have the door close."
Culbertson and his Russian crewmates, Vladimir Dezhurov and Mikhail Tyurin, will spend the next four months on the space station. Already, Culbertson is impressed with his new home.
"My first impression was, wow, it's big," he said. "But as we go through it you can see that it's packed with experiments, hardware, replacement parts, supplies, clothing, etc. So it's actually pretty full, and stowage is still something we have to work on very hard."
Departing space station resident Jim Voss said if he could change anything, it would be to add a closet.
"We have a lot more things on the station than we thought we would have originally," he said.
Copyright 2018 The Associated Press. All rights reserved. This material may not be published, broadcast, rewritten or redistributed. We strive to uphold our values for every story published.