DULUTH, GA. — The putt looked longer than his odds of making the cut.
Tiger Woods was just off the 15th green, 40 feet away from the hole. He was in dire need of something to happen to avoid taking the weekend off in a major for the first time since he turned professional five years ago.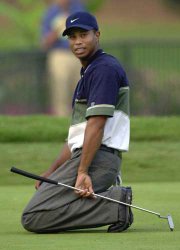 Woods rammed the ball into the back of the cup for a birdie he needed just to have a chance in the PGA Championship.
"Luck hopped on my side," he said.
He'll need more than luck the rest of the way.
David Toms and Shingo Katayama were tied for the lead after two sweltering rounds at Atlanta Athletic Club. Their record-tying 131s put them in a position they had never been in at a major championship.
Ditto for Woods.
He usually spends the first two rounds getting into contention. His summer swoon has come down to this: He celebrated Friday by making the cut.
"I've always believed you've got to give it everything you have, and that's what I did today," said Woods, who despite the heroic finish remains nine strokes behind.
The long list of players ahead of him have other matters on their minds.
Phil Mickelson had his second straight 66 and was one stroke off the lead, another chance to prove he has what it takes to win a major. He'll play today with Bob Estes, who had a 66 to join Mickelson at 132.
The half-dozen players another two strokes back include British Open champion David Duval (68) and two-time U.S. Open champion Ernie Els (67).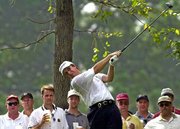 "It's hard to speculate what score will be needed to win," Duval said. "As long as it's mine, it's fine."
Woods went from nearly missing the cut to calculating his chances of winning his second major of the year. The answer is two low rounds, and it's hard to dismiss his chances after the way he finished his round Friday with back-to-back birdie putts and a 67.
Usually, such a flair for the dramatic results in a trophy. This time, it earned him a tee time this morning.
He clinched it with an approach that easily cleared the water on the 490-yard closing hole and landed safely on the green.
Woods smiled and looked sideways at caddie Steve Williams and chatted with Duval as they walked down the fairway.
"I was telling David this is a lot harder ... than trying to win a tournament," Woods said. "I've been there more times on the other side."
Lost in the hoopla over Woods making the cut were more record scores on a steamy day outside Atlanta, where the heat index neared 100 and players draped towels over their shoulders so they could wipe the sweat off their faces.
Katayama, a 28-year-old player from Japan with a white cowboy hat right out of the "Howdy Doody" show, birdied the last two holes for a 64. Toms had a 65 to join him at 9-under 131, tying the PGA record for 36 holes last set by Els at Riviera in 1995.
Even 44-year-old Mark O'Meara joined the act. He became the oldest of 20 players to tie the major championship record of 63.
"I hope it will motivate him," O'Meara said of Woods after finishing his bogey-free round before Woods teed off. "I think when he sees me on the board he'll say, 'Man, I can beat that O'Meara guy with my eyes closed."'
O'Meara was at 135, four shots off the lead.
Toms came into the PGA Championship in 14th place in the Ryder Cup standings. He no longer is motivated solely by making his first team.
"I'm playing well enough right now where I can win this golf tournament," said Toms, whose five PGA Tour victories include a come-from-behind win over Mickelson in New Orleans earlier this year.
Toms knows enough not to count out Woods, especially having played with him in the final twosome of the third round last year in the British Open, which Woods won by eight strokes to complete the career Grand Slam.
"If he makes the cut, with the game he has there's no reason he can't win the golf tournament," Toms said. "It would be nice to have him around. It would get some more people out there."
The large galleries saw quite a show Friday.
Fifty players broke par on greens that are not firm enough to get dangerous.
O'Meara, winless since 1998 when he became the oldest man to win two majors in the same year, led the charge and proved that no matter how long the course, the shortest stick in the bag is usually the best weapon.
It will have to work for Mickelson this weekend if he wants to shed that label as the best player never to have won a major. He's in contention again for the third time this year.
"I feel comfortable in this situation, being here a number of times now," Mickelson said. "However, having not won one, there could be doubts that creep in. That's something I'm overcoming now. I would very much love to win."
He has plenty of company.
Els, the most promising star in golf before Woods showed up, hasn't won a major since his second U.S. Open in 1997, and the Big Easy shot into contention with three birdies on his final six holes.
Duval survived a tough day with the putter and also is poised to win his second straight major. His best putt of the day was a 30-footer on No. 15 that came right after Woods holed his critical putt.
At least Mickelson will be spared some introduction. For a while, it appeared as though he would be paired with Katayama in the final group today.
"The only thing I know about him is the hat he wears," Mickelson said.
That's OK, Phil.
Katayama was asked what he knew about Mickelson.
"He's left-handed," he replied.
Katayama warms up by hitting his shots left-handed to work muscles on both sides of his body, and he enjoys listening to the gallery wonder how he got into the field. His play on the course left no doubt.
He made seven birdies, including the last two holes, and is the first Asian player to be in the lead halfway through a major since T.C. Chen in the 1985 U.S. Open.
He was asked which surprised him more to be leading the PGA Championship, or to be so far ahead of Woods.
"I would like to take a picture of the leaderboard," Katayama said.
Not a bad idea. With so many low scores, and so many players in the hunt for the final major championship of the season, it keeps changing.
And Woods still has a chance to make an appearance.
Copyright 2018 The Associated Press. All rights reserved. This material may not be published, broadcast, rewritten or redistributed. We strive to uphold our values for every story published.