The man credited with overseeing the recovery of the Pelathe Community Resource Center by guiding it through the aftermath of an embezzlement scandal and dramatically increasing its budget through several national grants is leaving his post as executive director to accept a similar job in Albuquerque, N.M.
David Cade confirmed this week that he has accepted a job as director of the Albuquerque Indian Center and will be leaving his job at Pelathe, 1423 Haskell Ave, within the next week.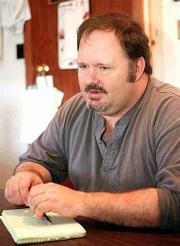 "The main reason that I'm leaving is that it just looks like such an exciting opportunity," Cade said. "It serves a population about 10 times larger than what we do here, and it's a major Indian center in the heart of Indian country."
The resignation ends a tenure that began in May 1996 when Cade took over for the previous director, Chet H. Learned, who was convicted of embezzling $18,000 from the organization, which at that time was named the Lawrence Indian Center.
After the embezzlement scandal became public, the United Way significantly cut the center's funding, and private donations dwindled down to next to nothing. Today, the center is an official United Way agency and has a budget of $250,000, nearly 10 times larger than Cade's first budget of $30,000.
Cade is modest in his assessment of the role that he played in the center's recovery.
"I think I was just very lucky, honestly," Cade said. "The right people came in to help the organization. It was a lot of hard work, but fortunately people understood that the center was worth saving."
Pelathe board member Jeff Morrow, who joined the board immediately after the embezzlement scandal, gives Cade more credit.
"That incident left us financially and morally bankrupt," Morrow said. "In five short years, David and the board and thousands of people throughout the community have renamed and reshaped Pelathe into a leading community resource."
The center, which serves about 4,000 people a year, offers a variety of services to the American Indian community, including housing programs for homeless and low-income families, a food pantry, and several arts and cultural programs.
Morrow said that the board has not found a replacement for Cade but would begin the search process at its Monday board meeting.
"It's probably time for us to rewrite our business plan and assess the situation post-Dave," Morrow said. "We're sad that he is leaving, but we're very encouraged with the situation that he has left us."
Cade said he also is optimistic that the center will be able to continue making progress but cautions that financial resources likely will continue to be a concern until the organization can find a stable source of government funding.
"Financially the center is okay," Cade said. "We're always struggling, but we're not in dire straits. But one of the attractive things about Albuquerque is that they have a base of funding from the city and state. It's not like everything they have is based on grants."
The board is planning a public reception for Cade from 3 p.m. to 7 p.m. Aug. 24 at the center.
Copyright 2017 The Lawrence Journal-World. All rights reserved. This material may not be published, broadcast, rewritten or redistributed. We strive to uphold our values for every story published.