Washington — Even though her cross-country flight had arrived late the night before, Olive Holtom was up and ready to go. The 88-year-old Alhambra, Calif., woman had waited 59 years to see her brother-in-law receive a proper burial and was not about to be deterred by an early-morning wake-up call and bus ride to Arlington National Cemetery.
Holtom and her family were among the hundreds of relatives and soldiers who gathered Friday at the cemetery to honor 13 World War II Marines killed during an August 1942 raid on the Japanese-held Makin Atoll in the South Pacific.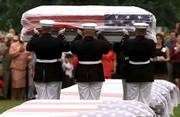 The bodies of 19 men of the 2nd Marine Raider Battalion were discovered two years ago on the small island, now called Butaritari, where they had lain in mass graves for nearly six decades. World War II veterans and relatives of Marines in the battalion had begun searching for the island grave site in 1998. They were tipped off to its location by a local resident who helped to bury the men when he was a boy.
Thirteen flag-draped caskets were aligned on the grass under intermittent drizzle before the ceremony began Friday. The sun emerged just as the service started, when a horse-drawn funeral caisson arrived with another casket bearing remains of unidentified soldiers killed on the island.
After six Marines placed the 14th casket in the middle of the row, the Marine Corps honor guard played its recessional hymn. Following prayers and a 21-gun salute, the ceremony concluded with a solitary bugler's mournful rendition of "Taps."
Remains of the six other Marines have been returned to their families for private burials.
Olive Holtom, whose brother-in-law Gerald D. Holtom was among the 13 interred, said the ceremony was "impressive." She said it was certain to be unlike anything she will ever see again.
Olive's son Tom, 57, said his uncle Gerald D. Holtom, born and raised in Japan, was a Marine intelligence officer who participated in the raid at the request of the mission commander, Lt. Col. Evans F. Carlson, because Holtom spoke fluent Japanese.
"A (Japanese) sniper saw Gerald reading a bulletin board," Tom Holtom said, adding that other Marines told him this week that the snipers believed "the intelligence officers who spoke Japanese were more dangerous than a man with a gun."
"They went after (Gerald) first," Holtom said. "He was targeted."
Tom Holtom said he felt it was important that his uncle remain with the men of his battalion.
"They trained together, they fought together, they died together," Holtom said. "They've been laying together in the South Pacific for half a century, (so) it's appropriate that as many as possible be buried at Arlington."
Copyright 2018 The Lawrence Journal-World. All rights reserved. This material may not be published, broadcast, rewritten or redistributed. We strive to uphold our values for every story published.