There's something about Lawrence that attracts people who disagree, whether it's John Brown taking on slaveholders or environmentalists battling the South Lawrence Trafficway.
Conflict is a big part of who we are, according to editors of a massive, soon-to-be published book that traces Lawrence history from founding to present.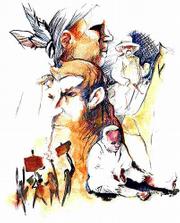 The editors of "Embattled Lawrence: Conflict and Community" argue that disagreement over the years has served the city remarkably well.
"Much of what makes and has made Lawrence unique is its adherence to the democratic process," said Dennis Domer, a former Kansas University professor. "This is not a community that shies away from talking about its problems."
Most communities, he said, go to great lengths to avoid public debate and its accompanying controversy. Consequently, most communities tend to look and feel the same.
Example: Downtowns in many Lawrence-sized communities are struggling because they squashed local resistance to giant shopping malls, Domer said.
Malls and slavery
But Lawrence, after a lengthy and contentious debate, rejected the lure of the mall.
"Now, ask yourself how many of these cities wouldn't trade their downtowns for Lawrence's?" Domer said. "Everybody would."
Historically speaking, Domer said, the city's resistance to a mall-based economy in the 1980s isn't all that much different from its resistance to slavery in the 1860s.
"Lawrence has been like this for 150 years," he said.
Domer and Barbara Watkins, director of curriculum and projects at KU's Continuing Education department, are co-editors of a whopping, 600-page look at democracy's grip on Lawrence.
"People get involved here," Watkins said. "They're activists."
Due out in late October, "Embattled Lawrence: Conflict and Community" is a collection of 35 essays, including:
"John Brown and Lawrence, Kansas territory, 1855-1859: A Militant Abolitionist's relationship with the Free State Fortress," by Karl Gridley.
"Workers' Housing, Workers' Neighborhood: Historic East Lawrence," by Dale Nimz.
"'The Forgotten Years of America's Civil Rights Movement: Wartime Protests at the University of Kansas, 1939-1945," by Kristine McCusker.
"Prescribing the Pill: Politics, Culture and the Sexual Revolution in America's Heartland," by Beth Bailey.
"Haskell Indian Nations University: The Story of a Contested Terrain," by Dan Wildcat.
"Separate but Not Equal: African Americans and the 100-year Struggle for Equality in Lawrence and the University of Kansas, 1850s-1960," by Bill Tuttle.
Old and new essays
About one-third of the essays were part of a 1997, made-for-television series on Lawrence history. The rest are new.
It's not yet known how much "Embattled Lawrence: Conflict and Community" will sell for, Watkins said.
"We're still in the process of figuring out whether this is a one- or two-volume project," she said, noting that copies will be available at area bookstores and on the department's Web site, www.kuce.org.
The publication is part of Continuing Education's series of books on Kansas history.
Watkins said she hoped the book would become a popular resource for area historians.
Lisa Bakke, general manager at Border's book store, 700 N.H., expects the book to sell well.
"A lot will depend on how it looks and how it's marketed, but there's certainly a lot of demand for local history," Bakke said. "And something that comes in at 600 pages is different from anything else that's currently out there."
Copyright 2018 The Lawrence Journal-World. All rights reserved. This material may not be published, broadcast, rewritten or redistributed. We strive to uphold our values for every story published.