Gov. Bill Graves wants to make you pay sales taxes on every book, sweater or other product you buy online.
And if that means abandoning a federal law that prohibits such taxes, so be it.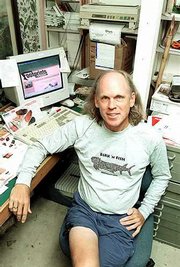 "It has long been the governor's position that Internet sales and catalog sales ought to be put on a level playing field with the storefronts in downtown Kansas," said Don Brown, the governor's spokesman. "You don't have to look back any further than the last legislative session to see where those dollars could have been useful."
During last week's annual meeting of the National Governors Assn., Graves joined 39 other governors to sign a letter designed to put pressure on Congress to allow states to charge sales taxes on e-commerce sales.
The letter asks members of Congress not to renew the Internet Tax Freedom Act, which includes the existing moratorium on Internet sales taxes.
Instead, the association wants states to have the option of collecting such taxes once the states come up with a feasible system.
The act deals only with Internet sales taxes, but many governors including Graves believe that once a system is created to collect Internet sales taxes that it also could be extended to cover catalog sales.
For shoppers in Lawrence, a tax would add 6.9 percent to the cost of online purchases, if all state and local sales taxes were collected.
At the Raven Bookstore, co-owner Mary Lou Wright faces the competition of online booksellers like Amazon.com on a daily basis, and she's convinced that their sales tax-free practices hurt local communities.
"It bothers me as a business owner, but I think it bothers me more as a taxpayer," she said. "As a longtime Lawrence resident and a former school board member, I really resent it because those sales taxes pay for teacher salaries, fire protection, police protection and a long list of other things. And those people who aren't paying those taxes are still taking advantage of all those services."
But Mick Ranney at Lawrence's Footprints, 1339 Mass., is a business owner who has found a way to use the Internet and catalog sales to significantly increase sales. He fears that a requirement to tax online and catalog sales could create an administrative nightmare.
"It would be a big pain in the butt to do it because all the different areas charge different sales taxes," Ranney said. "I'm sure that there is probably some software somewhere that can keep track of it all, but it wouldn't be easy.
"They'll come up with something but it won't ever be user-friendly for the business. I guarantee that it would be a big pain for the businesses."
State officials are optimistic that they can come up with a system that works for businesses. Kansas is one of four states participating in a pilot program that actually will start collecting online sales taxes from five retailers who voluntarily have agreed to participate.
Kansas also is one of 38 states participating in the national Streamlined Sales Tax Project, an effort to create more uniformity in how sales taxes are charged throughout the country. During the last legislative session, a bill was introduced that would have allowed the Kansas Department of Revenue to identify changes necessary to change the state's sales tax laws to comply with the project's recommendations.
That bill died in the House after winning approval in the Senate, but this year, Brown said, the legislation will be reintroduced early in the session to give legislators time to learn about it.
"This year we probably need to do a better job of selling the idea to legislators and convince them that this isn't another problem to deal with but actually might be a solution to some problems," Brown said. "Last year, by the time it came up everybody was focused on the revenue shortfall and didn't think they had time to deal with this, which is kind of ironic."
But Brown acknowledges that there likely will be opposition once legislators learn more. Some will see the proposal as a new tax, he said, and some retail associations will lobby against the idea.
"We don't view it as a new tax," Brown said. "We believe it is just applying the current tax to new types of sales, but we know there will be legislators or advisory groups that disagree with us."

Staff writer Chad Lawhorn can be reached at 832-7190.
Copyright 2018 The Lawrence Journal-World. All rights reserved. This material may not be published, broadcast, rewritten or redistributed. We strive to uphold our values for every story published.