Comfort foods aren't supposed to be entirely healthy for the body. There usually is a tradeoff between, say, plates of fried chicken and mashed potatoes soothing your flattened psyche and potentially unflattening your stomach.
Nutritionist Susan Kleiner says there is one comfort food that doesn't pose such a dilemma. It's cereal, one of the best foods in any active person's diet.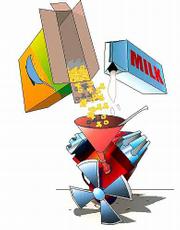 "Whether it's cooked or ready to eat from the box, cereal is especially comforting when we get up in the morning," said Kleiner, a Seattle-based nutritionist affiliated with the University of Washington. "We don't want food to be stressful. Eating cereal regularly forms a healthy habit, which is the opposite of stress."
Kleiner is a formidable expert on the subject. She is author of a newly revised sports nutrition book, "Power Eating" (Human Kinetics, $16.95), team nutritionist for the Seattle SuperSonics professional basketball team and a personal adviser to more than 40 clients who have lost weight and kept it off for the last seven years.
Everyone she counsels makes cereal and breakfast part of a new eating plan. What's more, Kleiner is a cereal eater extraordinaire.
"I'm about as boring as you can get," she said, laughing. "I have eaten Shredded Wheat every morning of my life since I was about 10 years old. I used to love tearing up the big biscuits when I was a child. I have since switched to the bite-size biscuits."
There are several reasons that make Kleiner and other nutritionists so enthusiastic about cereal for breakfast or as a snack or even dinner. Perhaps most important, cereals, especially the ready-to-eat versions, encourage us to eat breakfast.
"It's the most important meal of the day," Kleiner said. "Breakfast fires you up for the day. It's critical for anyone who is physically active I require all of my clients to commit to an exercise program before I work with them on losing weight. Since we mostly eat it at home, the meal provides an opportunity for nutrient density. You can consume lots of good things with very little fat."
Boxed wonders
Liz Applegate, a best-selling author herself (her latest is "Eat Smart, Play Hard" from Rodale Press, $16.95) and University of California-Davis nutritionist, said "ready-to-eat cereals are at the top of my list for one of last century's greatest food inventions." She calls them "boxed wonders."
Research seconds her endorsement. Studies show breakfast cereal eaters have lower blood-cholesterol levels than noncereal breakfast eaters or breakfast skippers.
Oats are especially effective for reducing cholesterol. Oatmeal is the obvious choice, but oat cereals high enough in fiber such as Quaker Oat Bran and General Mills Cheerios also fit the profile.
Another plus for cereal is its positive effect on calorie control. Kleiner said research clearly shows that people who eat breakfast are better able to control how many calories and fat grams they consume the rest of the day. Breakfast-cereal eaters are even better at calorie control.
A word about serving sizes: They range from a half-cup to a cup, depending on the cereal. People might eat two or more serving sizes at breakfast. That's not a problem if you select a low-sugar cereal. One serving is between 80 and 180 calories for these cereals, so even doubling it is not unhealthy for the active person. Cereals higher in sugar can add more calories than ideal.
Kleiner said cereal can serve the active person at times other than breakfast. She suggests dry cereal for a snack before or after working out. Cold cereal with nonfat milk can be a quick dinner on hot nights, or quick-cooked hot cereal can warm you in a hurry when the weather turns chilly.
Boost your meal with fresh or dried fruits, nuts and can it be? a bit of sugar, if you please.
"I think raisins can be an ideal sweetener," Kleiner said, "but some people love a bit of sugar in their cereal. That's not a big deal if you do it moderately. It is a sort of reward for sticking to a regular workout program."
Kleiner recommends picking cereals that contain no more than 6 to 10 grams of sugar per serving, as shown on the label. Then be sparing with any spooning from your sugar bowl. A teaspoon of sugar is 10 grams itself.
"I think it is OK to buy a cereal that contains a bit of sugar, but you should try to keep the entire sugar count to 10 grams," Kleiner explained.
One of the best features of becoming a regular cereal eater is the ability to easily add whole grains to your meals. Most Americans fall significantly short of the recommended 25 to 30 grams of dietary fiber.
"Any cereal that gives you at least 3 grams of fiber is a positive move in the morning," Kleiner said.
Copyright 2018 The Lawrence Journal-World. All rights reserved. This material may not be published, broadcast, rewritten or redistributed. We strive to uphold our values for every story published.