In case you couldn't tell, panhandling, fortune telling and slow trains are illegal in Lawrence.
But not for long. City officials say the ordinances barring those activities have been proven unconstitutional and unenforceable, so they're dropping them from the books after a routine review of city codes.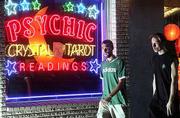 "We've got some provisions in our code that need updating," Assistant City Manager Dave Corliss said.
Section 14-703 of the city code states: "It shall be unlawful for any fortune teller, palmist, phrenologist or clairvoyant to carry on or practice his business, trade or profession with the city."
That came as a surprise to Tina Lee, a "natural-born spiritual psychic" who has operated the Lawrence Metaphysical Shop since January.
"I never knew that," she said. "I really don't have any idea why they would've done anything like that."
Lee said her customers range from people wanting to be entertained to those looking for direction in their lives. She guarantees her work even giving a refund to an unsatisfied customer who complained to police this summer and said the law wouldn't have stopped her from providing palm, Tarot card and crystal readings.
"I would've done whatever I had to, because Lawrence is a very spiritual area," she said. "A lot of people are looking for answers, insight."
Another part of the code says people cannot "solicit alms or beg on any street, alley, sidewalk, or public place or in any public building from house to house."
Other cities have had ordinances prohibiting begging and fortune telling, Corliss said, but have seen them struck down by the courts as violations of the First Amendment.
Lawrence also has ordinances regulating train speeds and barring them from blocking streets, and Wichita continues to enforce the latter. But Corliss said courts have struck down similar ordinances in other cities because federal law keeps railroad regulatory authority at the federal level.
Corliss said he didn't know the origin or application of any of the obsolete ordinances.
"There may have been citations that have been attempted in the modern era, but I don't recall any active prosecutions," he said.
City Manager Mike Wildgen said Lawrence residents will still have protections.
"That doesn't mean a fortune teller can commit fraud," he said.
And it doesn't mean a panhandler can block sidewalks or be physically threatening, he said.
The Lawrence City Commission will review the proposed repeal of the ordinances at 6:35 p.m. Tuesday in City Hall, Sixth and Massachusetts streets.
Copyright 2018 The Lawrence Journal-World. All rights reserved. This material may not be published, broadcast, rewritten or redistributed. We strive to uphold our values for every story published.