Belfast, Northern Ireland — Britain on Friday unveiled long-awaited plans for overhauling Northern Ireland's terrorism-hardened police force and challenged Catholic leaders to help manage the force for the first time in history.
While the most hard-line politicians immediately rejected the British proposals, the two biggest Protestant and Catholic parties in Northern Ireland's unity government said the plans warranted close study and might work.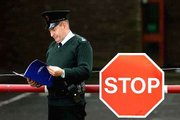 Building a police force that both sides of the community can support is one of the most elusive but essential goals of a 1998 peace plan that set up the coalition government. Failure on the police force could block compromise on other fronts.
The 70-page plan pledged to abolish the mostly Protestant force's 2,400-strong reserve within three years, close the last remaining anti-terrorist interrogation center, and bring the police's secretive intelligence unit, Special Branch, under more public control.
The plan is part of an effort to balance competing Catholic and Protestant demands that are wrecking their power-sharing administration.
Sinn Fein, the Irish Republican Army-linked party, dismissed the report as inadequate. But moderates from the Social Democratic and Labor Party pledged to respond more hopefully. Theirs is the larger Catholic-supported party in the four-party coalition.
"We acknowledge that significant progress has been made," said Social Democrat policing spokesman Alex Attwood. "We've yet to determine if the progress in detail is such to permit us to go onto the Policing Board, but we hope that will be the outcome."
While the hard-line Democratic Unionist Party denounced Friday's British plans, the larger Ulster Unionist Party was more circumspect. It said its eventual support for the proposed reforms would depend on whether the IRA began scrapping weapons and whether moderate Catholics announced next week they would join the Policing Board.
Copyright 2018 The Associated Press. All rights reserved. This material may not be published, broadcast, rewritten or redistributed. We strive to uphold our values for every story published.