New York — Derek Jeter and the New York Yankees didn't take long to show Seattle who the World Series champs are.
Jeter homered on the first pitch and Mike Mussina pitched seven scoreless innings as the Yankees won the matchup of baseball's two best teams, 4-0, Friday night.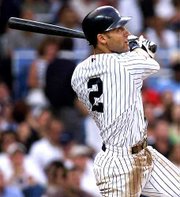 "Everybody's excited about this series, thinking it could be a prelim for what might happen in October," Mussina said. "Certainly it's a confidence builder if you have a little bit of success against somebody."
With a frenzied sellout crowd, flashbulbs popping and high anticipation, the game was played with a bit of an October feel. And like the postseason, the Yankees came out on top.
The three-time defending World Series champions established themselves right away against the team chasing their AL wins record. Jeter hit a first-pitch fastball from Paul Abbott (12-3) into the seats in right-center. Jeter has three leadoff homers in the past week.
Shane Spencer and Alfonso Soriano also homered for the Yankees.
The Mariners (87-35), five games off the Yankees' record pace in 1998, lost two straight games for the 10th time. Seattle hasn't lost three in a row since last year's ALCS against New York.
Mussina (12-10) allowed five hits and four walks, but held baseball's highest scoring team without a run.
Mike Stanton put two runners on in the eighth, but Ramiro Mendoza retired Edgar Martinez and John Olerud to get out of the jam. Mendoza finished for his fifth save.
Blue Jays 11, Rangers 3
Toronto Jeff Frye became the second Toronto player to hit for the cycle, and four Blue Jays homered off Texas reliever Pat Mahomes in the sixth inning. Frye stopped at first base to complete the fourth major league cycle this season instead of continuing on for his second double of the game. After tripling in the second inning, doubling in the fifth and homering in sixth, Frye lined a 3-2 pitch in the seventh from Texas' Kevin Foster into the gap in right-center field.
Alex Rodriguez homered twice for the Rangers.
Angels 7, Indians 2
Cleveland Ramon Ortiz won his fourth straight decision as Anaheim defeated Cleveland.
Scott Spiezio had three hits and three RBIs for Anaheim, which won for the 12th time in 16 games. The Angels improved to 23-12 since the All-Star break and continued to push their way into the AL playoff picture.
Ortiz (11-7) allowed two runs and six hits in his first complete game since last September. He struck out three and walked three. Cleveland had a four-game winning streak snapped.
Devil Rays 9, Twins 4
Minneapolis Tanyon Sturtze pitched seven innings, and Russ Johnson drove in three runs with three hits as Tampa Bay handed the fading Twins their eighth straight loss.
Tampa Bay, the majors' worst team, is 5-0 against Minnesota this year and has outscored the Twins 26-10. Tied for first place in the AL Central just a week ago, the Twins are 41*2 games behind the Cleveland Indians. The Twins 9-25 since the All-Star break have lost 11 of 12.
Athletics 9, White Sox 2
Chicago Eric Chavez hit a three-run homer and Jeremy Giambi added a solo shot in Oakland's victory over Chicago. Jermaine Dye drove in two runs and 30-year-old rookie Erik Hiljus pitched five-plus solid innings for the A's, who have won 15 of 18 and are 26-9 since the All-Star break, best in the majors.
Hiljus (2-0) allowed two runs on six hits and no walks.
Orioles 11, Red Sox 5
Boston Jeff Conine drove in four runs, and Jason Towers beat Boston for the second time in a week as Baltimore earned a rain-delayed victory. The loss was the first for new manager Joe Kerrigan, who was given a two-year contract Thursday after Jimy Williams was fired.
Brook Fordyce tied a career high with four hits and drove in two runs for the Orioles, who won for the seventh time in 10 games. The Red Sox lost for the seventh time in nine games and fell a season-high six games behind New York in the AL East.
Copyright 2017 The Associated Press. All rights reserved. This material may not be published, broadcast, rewritten or redistributed. We strive to uphold our values for every story published.