Kansas University and the city are nearing an agreement to address a continuing controversy over proposed scholarship halls in the Oread neighborhood.
The agreement hasn't been finalized, but it already is being used as a model to decide whether homes in the 1300 block of Ohio Street will be destroyed to make way for the halls.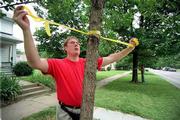 "We'll have the campus board meet, the city board meet, and if they disagree, they'll meet together," said Assistant City Manager David Corliss.
Residents of the Oread Neighborhood Assn. have spent the summer protesting the scholarship hall plans. They say the century-old homes should be preserved and that KU has violated its own promise not to encroach farther into the neighborhood.
Because the homes are near both the Usher House in the 1400 block of Tennessee Street and KU's Spooner Hall both on the National Register of Historic Places the state historic preservation officer has ultimate authority over the matter. The state delegated that authority on campus issues to KU and on city issues to Lawrence, both in 1999.
Under the proposed agreement, the Campus Historic Preservation Board will get first crack at issues of joint concern, then the city's Historic Resources Board. If they come to different decisions, they'll meet together. If that doesn't resolve the issue, the state will be asked to make the final determination.
Oread and KU officials praised the proposal.
"We're pleased they've got a joint process lined out," said Janet Gerstner of the Oread neighborhood.
"It looks like a good method to address the issues," said KU Provost David Shulenburger. "I'm optimistic."
Gerstner did have a concern, however: The agreement does not require KU to take public comment on any issue, though the city board will do so.
Though the agreement doesn't require it, public comment will be taken when the campus board meets 6 p.m. Tuesday in the Jayhawk Room of Kansas Union to discuss the scholarship halls. Concerned people will be allowed to speak for three minutes, with a total of 45 minutes allowed for discussion.
Lawrence city commissioners will review the joint agreement at their meeting, 6:35 p.m. Tuesday at City Hall, Sixth and Massachusetts streets.
Copyright 2018 The Lawrence Journal-World. All rights reserved. This material may not be published, broadcast, rewritten or redistributed. We strive to uphold our values for every story published.