Danette Seymour didn't hesitate when brown recluse spiders emerged from hiding places in her West Lawrence townhouse.
She responded by plastering her attic their base of operations with insecticide. She also treated closets and other niches inside the home. Safety precautions include shaking out towels, clothes and shoes before use. Nobody sticks a hand in anything without looking first.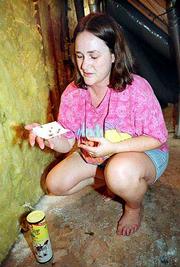 "They are really bad," Seymour said. "No bites knock on wood."
She's not alone battling against the secretive, nocturnal spiders in Lawrence.
Any home urban or rural, high-dollar or low-income can be invaded by these spiders, said Bruce Chladny, the extension service's horticulture agent for Douglas County.
There was a surge in area reports of recluse spider bites in 2000, he said. Sightings are running high again this year.
"I would say they're still at an elevated level," he said. "They are still a concern. Every house has the potential to have them. They are natural to this area and travel where they can find a meal."
Cornell Mayfield, a counselor with the Housing and Credit Counseling Inc. in Lawrence, said his office had received dozens of calls this week from tenants wondering who was legally responsible for controlling recluse spiders in their homes.
"In one day, we had 15 to 20 calls," Mayfield said.
He said city code says building owners are responsible for extermination prior to renting or leasing a structure.
The occupant of a one-family dwelling is responsible for extermination.
Owners of a building with two or more dwelling units are required to handle extermination in public areas and the exterior. If infestation is due to occupant negligence, the resident is responsible.
College students moving to new Lawrence addresses should realize recluses like to hide in boxes, which allows them to be transported from house to house.
Recluse spiders subdue prey with a venom that can produce nasty wounds on humans. The spiders are common in the Midwest and a frequent house guest in Kansas. When a habitat is conducive to recluses, dense populations are found.
Shortly after moving into her townhouse, Seymour said her son found a spider in a bedroom. She immediately identified it as a brown recluse because of the characteristic violin pattern on the first body part to which the legs attach.
Brown recluse spiders also have an odd eye arrangement. Most U.S. spiders have eight eyes, typically set in two rows of four. Recluse spiders have six eyes arranged in pairs with one anterior pair and two lateral pairs.
Seymour's use of an insecticide powder appears to be working. One trip to the attic revealed about 50 spider corpses.
Chladny recommended a three-step process to respond to recluse spider infestation:
Sticky traps. Place lures in strategic locations under couches, behind refrigerators and in closets. If you catch a spider, don't remove it. Victims attract others willing to eat trapped brethren.
"They are hunters," Chladny said. "One becomes three, three becomes five and so on."
Seek and destroy. An hour after sundown, arm yourself with a flashlight and wad of paper towels. Search for spiders in cabinets, closets, baskets and boxes. Smash unwelcome guests.
"You do that several nights in a row, you'll see their numbers are decreasing," Chladny said.
Insecticide treatment. He recommended a product with cyfluthrin as an active ingredient. Treat cracks or crevices where spiders might gain entry to a house.
Copyright 2018 The Lawrence Journal-World. All rights reserved. This material may not be published, broadcast, rewritten or redistributed. We strive to uphold our values for every story published.