Washington — After Burger King recalled millions of giveaway toys last month because of a choking hazard to young children, marketing chief Chris Clouser made a pledge.
"This won't happen again," Clouser said. "You can watch us and judge us."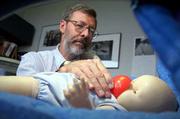 It was Miami-based Burger King's second recall for 2001, a year when fast-food outlets nationwide have recalled toys five times, a widely reported record. Since 1999, fast-food restaurants have yanked more than 33 million toys in eight separate recalls.
The U.S. Consumer Product Safety Commission reports that two children, aged 4 months and 13 months, suffocated on Pokemon toys that Burger King gave away in 1999 and 2000.
Giveaway toys hit the market fast and in huge numbers, and some fear that an unsafe restaurant toy will flood the nation before its safety hazard is recognized.
To avert disaster, the commission wants fast-food companies to test toys more thoroughly and to improve warning labels. Commission Chairman Ann Brown also wants restaurants to offer chokeproof toy for children under 3 and another kind of toy for older children.
Experts recommend that parents concerned about the safety hazard posed by fast-food restaurant toys:Ask restaurant employees whether they have toys specifically geared to children under 3 and over 3.Report any potential toy defect or safety risk to the restaurant or to the Consumer Product Safety Commission.Make sure that young toddlers don't play with toys intended for older children.
For now, "There seems to be a big gaping loophole about the safety and the testing of these fast-food toys," said Rachel Weintraub, a staff attorney who specializes in product recalls for the U.S. Public Interest Research Group, a consumer advocacy group in Washington.
Boston attorney Ed Swartz founded World Against Toys Causing Harm, a nonprofit group dedicated to public education about dangerous toys. He contends the commission should test toys itself before they hit the market.
The commission lacks the money, manpower and authority to do that. Typically, the hazards result from manufacturing defects rather than design flaws, Brown added, so quality control is the best solution.
"We think this will solve the problem," she said.
By law, restaurants are required to notify the commission immediately when they discover that a toy poses a health hazard. The commission monitors hospital emergency rooms for product-related injuries and operates a consumer complaint hot line.
The growing safety problem reflects the industry's reliance on toys to generate sales, fast-food marketing experts say. According to Burger King's Clouser, a popular toy can produce a 30 percent surge in customers.
So far this year, four fast food companies have voluntarily recalled nearly 7.5 million toys because they presented choking hazards for children. Here's a rundown:July 31 Burger King recalls 2.6 million Hourglass Space Sprouts and Look for Me Bumblebee toys. They can break and release small balls.April 26 Whataburger recalls 330,000 Whatagear compass toys. The clear plastic lens on the cover of the compass can come off.March 12 Burger King recalls about 400,000 Rattling, Paddling Riverboat toys. Metal pins with plastic caps attaching the paddle wheel can come off.March 5 McDonald's recalls about 234,000 Scooter Bug toys. The bug's antennae can break off.Feb. 8 Chick-fil-A recalls 3.8 million Planet Discovery toys. The suction cup on the toy can come off.
"Many visits are determined because of the toy," Clouser said. "It's a huge destination product."
Translation: Clamoring kids influence about one-third of fast-food restaurant visits, said to James McNeal, CEO of McNeal & Kids, a youth marketing consultant firm in College Station, Tex.
Decades-old phenomenon
McDonald's, the nation's largest fast-food restaurant chain, discovered the drawing power in the 1970s with its Happy Meal, which usually included a trinket. Most competitors followed suit.
"This is like an arms race," said Al Ries, president of Ries & Ries, a marketing consulting firm in Roswell, Ga. "If McDonald's is doing it, then Burger King, Pizza Hut and Taco Bell have to do it in self-defense," he said.
The volumes are huge. The Nation's Restaurant News, an industry trade publication, reports that Burger King gave away 50 million Teletubby toys in 3 1/2 weeks in 1999. Subway quadrupled its volume of kiddie meals during a 1998 promotion using toys linked to a Nickelodeon TV show for toddlers.
Keeping giveaway toys out of the mouths of babes is especially hard on the fast food-industry, experts say, because it markets to infants.
"Even 2-year-olds are able to recognize brands and identify them," said Dr. Allen Kanner, a clinical child psychologist in Berkeley, Calif. By age 3, Kanner said, the average American child recognizes about 100 brand logos.
Youngest at risk
Because the choking risk is greatest for kids 3 and under, some consumer advocates would restrict giveaway restaurant toys to older children.
Brown disagrees. "I don't think children under 3 should be penalized," she said. She wants restaurants to stop offering toys they claim are "appropriate for all ages." Brown favors "separate toys that are age-specific. Restaurants should have signs that say these different toys are available and there should be samples on the counter so parents can see them."
Burger King launched a separate under-3 toddler toy program in January, after the two children suffocated from the Pokemon toys. The half-spheres that made up the toys could cover an infant's mouth and nose.
But supervising children remains a parent's job, said Bob Cutler, CEO of Creative Consumer Concepts in Overland Park, Kan., which designs giveaway toys for restaurants.
"Everybody's ultra-concerned," said Cutler. "We put warnings on the products. But other than walking around with these parents or in some way shadowing them in their homes and in their lives, what else can we possibly do?"
Copyright 2018 The Lawrence Journal-World. All rights reserved. This material may not be published, broadcast, rewritten or redistributed. We strive to uphold our values for every story published.