In New York City, there's nothing terribly unusual about seeing a man cooking on the street. But what caught the eye of a Kansas City restaurateur was one man's particular equipment: For his grill he used a grate, purloined from the street. This stolen grill became the inspiration, in name if not machinery, for the little Westport area restaurant called The Stolen Grill.
This story suggested a certain unexpected discovery, proof that culinary innovation can happen under the unlikeliest of circumstances. Not that The Stolen Grill is a secret gem hidden in a remote Kansas City neighborhood; in fact, it's a reservations-recommended hot spot just off the beaten path in Westport. But chef Tim Doolittle's menu, of the sophisticated contemporary American variety that has proliferated in recent years, is imaginative and quite good, with entr that range from a vegetarian meal in two courses to an ostrich fillet.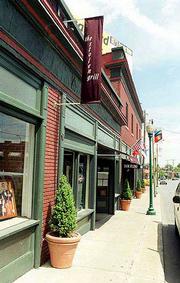 The Stolen Grill reads somewhat like a New York bistro, with smart use of a decidedly small space. A suspended, circular black velvet curtain creates an effective portico in the absence of an actual architectural construction. An arch divides the room into two distinct areas: One side embraces a bygone glamour with a decorative tin ceiling, the other flaunts modernity with exposed beams. Dramatic, large-scale original artwork unites both sides, while a latticed wine cupboard brings a measure of coziness. It doesn't try to be the swankiest environment around, merely one that is very nice and, more importantly, interesting.
The tables are necessarily close, and at first I was reluctant to sit at one of the middle tables that offer no protection from the maw of other diners. But with no reservations, I had to take what I could get, and happily, most people are so busy having their own intimate dining experience that they don't interfere with yours.
Our servers were reserved without being aloof, and I welcomed the absence of falsely cheery greetings in favor of good manners without the fawning factor. Displaying the hallmark of classic, professional service, they did their jobs without interjecting themselves into the experience. Should you wish to chat, however, I found them polite and knowledgeable.
Rich tastes
Available the night of our visit was the chef's tasting menu. At $50 per person, it cost about the same as an individual appetizer, entrand dessert, but allows you to try two of each. It was an excellent introduction to the restaurant, supplying both a culinary overture for the menu and also a thorough audition for the wait staff, who must be paying attention to serve the five-course meal on a schedule that is expeditious but not rushed.
We were promptly started off with our first course, a creamy crab cake perfectly centered in a large plate atop a light tomato-horseradish sauce. True, I couldn't taste much horseradish, but the sweetness of the crab cake was an unusual take on this appetizer, and the delicate shreds of green onion on top gave it just the necessary bite.
With an appropriate moment to digest, our plates were whisked away and replaced by new ones bearing leek tarts, light pastry shells packed with caramelized leeks and spread with a little too-thick layer of creamy goat cheese. A salty sliver of prosciutto finished it off.
I was beginning to catch on at this point that the food here is unmercifully rich, excellent but filling on even small portions (which these weren't). There's no bread to bulk things out, but actually that's just as well, because you wouldn't want to waste yourself on such pedestrian fillers.
Especially when next came a thick slice of tuna tartar (cooked on the outside, but raw in the middle), peppery grilled and positioned on top of a hill of creamy seasoned rice with meandering streams of two colorful sauces: a red chile garlic and a yellow coconut curry. Good on their own, these were even better mixed together.
The chef knows you are stuffed by now, even before the next course arrives, and he has planned for this by scheduling in an interlude of pineapple sorbet. Icy and sweet, this revives your palate and your resolve for the beef entrstill to come. Tender, cooked medium and layered with sumptuous portabella mushrooms, this was sauced with a beef reduction glaze embroidered with truffle oil and was unequivocally delicious. A fluffy, golden-brown potato croquette came on the side.
The waiter allowed us to sit at a table comfortably empty of dishes for a few moments before appearing once again. "Just when you thought there was no more ..." he joked, and placed two enticing desserts before us. One was raspberries in a sweet cream; the other a cr brbaked with a thin but crunchy crust.
Confident and savvy cooking is at the center of this restaurant's appeal, and a comfortably suave atmosphere gives it the perfect setting. If you're flagging at the idea of another Friday night family barbecue, The Stolen Grill is a wonderful place to steal away.
Copyright 2018 The Lawrence Journal-World. All rights reserved. This material may not be published, broadcast, rewritten or redistributed. We strive to uphold our values for every story published.