Lawrence dentist David Brzoska eluded pit vipers and mountain lions while hunting fast-flying tiger beetles.
His three-decade quest to build his tiger beetle collection which a Kansas University museum curator called one of the best in North America took Brzoska through deserts and jungles.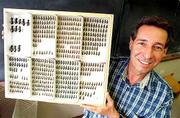 Now, fruits of his labor more than 100,000 cleaned, mounted, identified and labeled tiger beetles have been donated to the Natural History Museum and Biodiversity Research Center at KU.
"I realized that my collection would need to be in some major institution where it could be accessible to researchers all over the world, and KU has a great reputation for that," Brzoska said.
Since 1991, Brzoska and his wife, Judy, annually have given KU 10,000 to 12,000 specimens to the museum. The gifts are now valued near $485,000.
The collection is a great resource for researchers studying biodiversity patterns of the insect, said Steve Ashe, senior curator at the museum.
"It documents them in terms of kinds and species and historical distributions," he said. "As people have more and more impact on the environment, the collections will provide a lasting history of the patterns of biodiversity."
These donations of the elusive insect strengthen the university's collection of 4 million preserved specimens.
"No one I know of has passion for these animals that David Brzoska has," Ashe said.
Brzoska has been collecting tiger beetles since the late 1960s. These beetles range in length from one-half inch to one inch, and have long mandibles and legs. They're fast-flying insects that are not easy to catch. Some are active only in the day, while others move around at night.
Brzoska earned a master's degree in entomology and a doctor of dental surgery degree at Ohio State University. Judy Brzoska has a dental hygiene degree from Marquette University.
Their dental practice in Lawrence provided the couple enough flexibility to schedule collecting trips around work.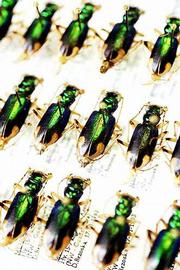 Copyright 2018 The Lawrence Journal-World. All rights reserved. This material may not be published, broadcast, rewritten or redistributed. We strive to uphold our values for every story published.