A Lenexa businessman who already is heavily invested in downtown Lawrence now has his sights set on the western reaches of the city.
Pat Talbott, whose Jayhawk Properties and Jayhawk Equities own seven buildings in downtown, plans to build a 40,000-square-foot retail center to capitalize on the growing number of offices and homes in the 15th Street and Wakarusa Drive area.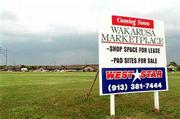 He said construction would begin this fall on a neighborhood-oriented shopping center that could bring anywhere from 15 to 25 new businesses to a 6.2-acre tract immediately south of Commerce Bank at the southeast corner of 15th Street and Wakarusa Drive.
"We're looking for it to be a real neighborhood center to fill the needs of residents and employees in that area," said Talbott, who expects the center to fill a retail "big gap" on Wakarusa Drive between Clinton Parkway and Sixth Street.
Talbott said he couldn't yet name any tenants for the new development, which is being called Wakarusa Marketplace, but he said his team has some clear ideas on the types of businesses it hopes to attract.
"I could definitely see a restaurant out there, maybe a dry-cleaner, a hair salon, those type of neighborhood businesses," Talbott said.
The project is scheduled to be built in three phases, he said:
l First would be a 19,276-square-foot retail building that could be ready for business by spring.
l Second would be a 20,817-square-foot addition. Project timing would depend on the amount of interest received from prospective tenants.
l Third would be an outlying lot currently labeled as a site for an auto service center, but Talbott said it could end up being occupied by other retail uses.
"We labeled it an auto service center on the plan because it does seem like that might be a particularly needed use for that area of town," Talbott said.
Talbott and his new Wakarusa Equities investment group bought the property last spring and began designing the retail center immediately, in part because of the potential they see with the construction of the new Wakarusa Corporate Centre directly west of the property.
"I think the new office construction right across the street from us got us pretty excited about the project," Talbott said.
"Being that close to that complex and all the employees who will work there is very advantageous."
The Wakarusa Marketplace project, which awaits site plan approval at City Hall, represents the latest in a steady stream of investments that the Lenexa business has made in Lawrence.
"We like Lawrence from a business standpoint because it is a strong market, and with the university it seems to have an economy that will remain relatively strong even when other areas are going through down times," Talbott said.
Copyright 2018 The Lawrence Journal-World. All rights reserved. This material may not be published, broadcast, rewritten or redistributed. We strive to uphold our values for every story published.