Lloyd Hetrick is hoping that teaching students how to fly high also will elevate the Lawrence Municipal Airport's chances for future success.
Hetrick Aircraft, which operates the city-owned airport north of town, has agreed to buy Lawrence Flight Services and take over its flight school services and rental plane business, said Hetrick, president of Hetrick Aircraft.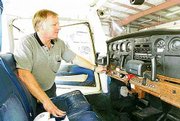 The deal is important for more than the just 60 to 100 aspiring pilots a year who rely on the business to receive the necessary training they need to receive a pilot's license, Hetrick said. It's also important in the airport's efforts to keep a steady flow of potential customers coming to the airport.
"It's a service that needs to be here at the airport because people expect to be able to come here and learn to fly, and it is a good way for us to create new customers," Hetrick said. "If they learn to fly, they may want to buy a plane and lot of times they'll buy it from where they learned to fly, and there's a good chance that they'll store it out here, too."
A healthy flight school program, which requires each student to fly at least 40 hours, also could help the airport land more federal grants and other funding from the Federal Aviation Administration, since the FAA uses traffic volume numbers in its consideration of grant awards.
Work began last week on a $1.9 million expansion of the airport's apron, which will allow the airport to handle twice as many planes on the ground. An FAA grant is paying for 90 percent of the project, with the city picking up the rest.
Another $1.1 million in taxiway upgrades are expected later this year, while the city is seeking an FAA grant to pay for a runway extension next year.
The extension would allow the airport to handle landings for up to 95 percent of all business jets, officials have said.
Hetrick agreed to buy Lawrence Flight Services from Rod Mohr, the company's owner and president who lost interest in maintaining the business, Hetrick said. Mohr started the business in 1983.
Hetrick said that customers of the business, who also include pilots who don't own their own planes, shouldn't expect many changes under the new ownership, except a more aggressive marketing campaign to attract more students.
"I know there is a good demand for the services, but Mr. Mohr has been trying to get out of the business for several years, so he hasn't been real aggressive in attracting new students," Hetrick said.
"We'll start getting more aggressive."
Terms of the sale were not disclosed.
Copyright 2018 The Lawrence Journal-World. All rights reserved. This material may not be published, broadcast, rewritten or redistributed. We strive to uphold our values for every story published.