New York — Residents of several Orthodox Jewish neighborhoods held five funerals one after the other Monday, offering prayers in Yiddish for members of their community killed in a helicopter crash near the Grand Canyon.
"To say devastated is still a mild word," Rabbi Edgar Gluck said. "We have seven children that are from the ages of 3 months to 10 years that are left orphans some orphans from father and mother because their parents died, and some where they just have one parent that didn't make it."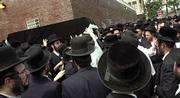 The crash Friday killed the five tourists and the pilot, Kevin Innocenti, 27, of Henderson, Nev. The helicopter went down near the canyon's western end, 60 miles east of Las Vegas.
Hundreds of men dressed in black suits and hats and women wearing long skirts, some with their heads covered by scarves, sobbed or stood silently through each funeral on a humid day in the Borough Park section of the city's borough of Brooklyn.
Elan Levy, 30, remembered victim Shayie Lichtenstein for his generous nature. Lichtenstein had given Levy tickets to Sunday's New York Yankees baseball game.
"He was always giving, giving, giving. He walked into a room and the room lit up. It's a tragedy," Levy said. "He'd give you the last dollar he had in his pocket."
The other tourists killed were David Daskal, Avi and Barbara Wajsbaum and Aryeh Zvi Fastag. At the funeral for Avi and Barbara Wajsbaum, Avi's father spoke in Yiddish about forgiveness.
"It's supposed to be the other way around," said State Assemblyman Dov Hikind. "Children are supposed to ultimately bury their parents."
The sole survivor of the crash remained in critical condition Monday, but slightly improved, said Rick Plummer, a spokesman for University Medical Center in Las Vegas.
Chana Daskal, 25, suffered burns over 80 percent of her body.
"No one can understand how we feel," said her twin sister Brache Rosenberg, at a news conference. "We believe she's alive because of God."
The tourists were part of a group of about 20 friends and relatives on a four-day vacation at the Bellagio hotel-casino in Las Vegas, according to Steven Golomb, a friend of the victims who was on the trip.
National Transportation Safety Board officials said determining the cause of the accident would be difficult because the helicopter had no recording device.
NTSB records show Papillon, the helicopter company, has been involved in four crashes during the last three years along the Colorado River, which cuts through the Grand Canyon.
The crash was the deadliest canyon tour accident since 1995, when a plane crashed while trying to return to Grand Canyon Airport, killing eight people.
Copyright 2018 The Associated Press. All rights reserved. This material may not be published, broadcast, rewritten or redistributed. We strive to uphold our values for every story published.