Dallas — The murder trial of a Texas inmate accused of leading a murderous prison break last winter opened Monday after prosecutors won the right to include the defendant's confession as evidence.
George Rivas is charged with killing Officer Aubrey Hawkins, who was shot 11 times by five different weapons outside a Dallas-area sporting goods store on Christmas Eve.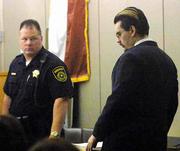 Before opening statements began, District Judge Molly Francis ruled that Rivas' 21-page confession could be used as evidence, saying he knowingly waived his rights and gave the statement voluntarily.
Prosecutors said the confession is key to proving that Rivas is guilty.
"We will do that by using George Rivas' own words," prosecutor Toby Shook said. "He takes responsibility for pulling the trigger five times during that shooting."
Hawkins "never had a chance," Shook said.
The gang that came to be known as the Texas Seven broke out of the Connally Unit state prison near Kenedy on Dec. 13. Hawkins was killed 11 days later. The group eventually was captured in January in Colorado. One of them committed suicide as authorities closed in.
Hawkins' widow, Lori Hawkins, trembled as she testified about the night of the shooting.
Jurors wiped away tears as Hawkins said her husband told her, "I'll see you in the morning, honey. I love you," as he left to investigate suspicious activity at the sporting goods store.
When a group of people came to her door a few hours later, she testified, she first thought they were Christmas carolers. Then she realized the police chief was one of them.
"I said, 'He's dead, isn't he?"' she told the jury.
Rivas, wearing a charcoal colored suit and glasses, his hair still streaked blonde from attempts at disguise during the escape, sat quietly in court. Defense lawyer Wayne Huff told jurors his client never intended to kill anyone.
"The last thing any of these men wanted to do, particularly Mr. Rivas, is hurt anyone, let alone a police officer," Huff said. "They wanted to get the property, get away from Oshman's (the sporting goods store) and get out of town."
While Rivas admitted to his part in the shooting, it was unplanned, Huff said. Rivas only wanted to disarm Hawkins, but then other defendants began firing and everyone suddenly was "in panic mode," Huff said.
Rivas, who was serving one of 17 life sentences, is the first of the remaining men to go on trial. All six face the death penalty or life in prison if convicted.
Oshman's manager Wes Ferris testified that Rivas led a methodical, 33-minute robbery as the other inmates held more than a dozen employees at gunpoint.
"He did all the talking, telling us what to do and when to do it," Ferris said, adding that Rivas warned him not to try to thwart the robbery. "He said 'Don't try it. If you do, I'll have to shoot you and if I shoot you, I'll shoot everybody."'
However, Ferris said he also got the impression that Rivas "didn't want to hurt anybody but if it became necessary he would."
The gang left with Ferris' sport utility vehicle, along with jewelry, money and credit cards from the workers, most of whom were tied up before the men fled the store. The gang also got away with about $70,000 in cash, 34 handguns, 10 rifles and shotguns and ammunition.
Copyright 2018 The Associated Press. All rights reserved. This material may not be published, broadcast, rewritten or redistributed. We strive to uphold our values for every story published.