One of the hottest movies of the summer is "A.I.: Artificial Intelligence," about a robotic boy. The film by Steven Spielberg and Stanley Kubrick stars Haley Joel Osment as a lifelike robot that talks, walks, laughs and even loves.
Big deal. The real question is, can he mop floors, take out trash and wash windows?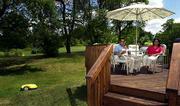 That's the question posed by the recent emergence of the first wave of personal robots designed and sold to perform routine household duties.
Perry Kannan of Fairlawn, Ohio, knows full well the results of the real world's robotic revolution. A robot mows Kannan's lawn.
"I don't have time to mow the grass," Kannan said. Kannan's wife Shanti made it clear that lawn mowing is man's work, but Kannan, 40, said he'd rather spend the time with his family.
That's why Kannan bought a Robomower, an autonomous robot that spends a few hours each week trimming the grass. It does a pretty good job, too, Kannan said.
"It does 90 percent of the work. All I have to do is a little bit of trimming," he said.
The robot also provides some entertainment, Kannan said, explaining that he and his wife like to sit outside and enjoy a beverage as they watch the Robomower rolling back and forth, mowing all the while.
Handling the chores
Get ready for the era of personal household robots that handle chores ranging from clearing snow and cleaning floors to providing 24-hour property surveillance. The first robots designed and priced for homeowners are for sale and more are being designed.
The biggest early success in the robotic revolution may be the machine Kannan purchased. The Robomower was designed by Udi Peless, a former officer in the Israeli Air Force who helped develop weapons and navigation systems. He used his high-tech savvy to design a battery-powered mower with a computer brain capable of navigating its way through an overgrown suburban lawn.
Peless established his U.S. subsidiary, Friendly Robotics, in Dallas, which began selling the Robomower last year. The company also licensed its technology to the industry giant Toro, and the company began selling its version the iMow in April.
Kannan's experience with the Robomower demonstrates how the machine works.
He said he purchased his mower in April for $650 at a home and garden show in Ohio. While enthusiastic about the idea of a robotic mower, Kannan was skeptical that it would do an acceptable job. The salesman assured him that he could return the mower in 30 days if it didn't perform adequately, so Kannan took it home to give it a try.
His first task was to hammer a perimeter wire into the ground on the edge of his lawn, then to do a little programming of the mower's computer brain. After charging the mower's battery (which provides 2 1/2 hours of power), he turned the machine loose in his yard.
The mower begins by mowing along the perimeter wire, cutting a 21-inch swatch. Once it has traced the lawn's boundaries, it begins mowing diagonal cuts across the lawn. Its touch-sensitive bumpers detect when it hits an obstacle like a tree or rock, prompting it to back up and find a safe way around.
It cuts about 1,000 square feet per hour. That's much slower than a human, meaning the mower sometimes runs out of juice before finishing the entire lawn. Kannan said the speed hasn't been a problem. He simply recharges the machine overnight and puts it out again to finish the job.
"It doesn't care what time it is," he said, explaining that he can use the machine to mow his lawn in the evening, at night even in the rain.
Edna Kimbrell, a spokeswoman for Friendly Robotics, said the company is working to develop other types of robots, ranging from snow blowers and vacuum cleaners to machines that take out the trash.
"There are a lot of ways to use this technology," she said.
Other advantages
So where is the technology going? Michael Happe, senior marketing manager for Toro, said household robots will become more desirable as the machines become more common.
Robots have some advantages beyond being time-savers, Happe noted. Turf experts have long advised that frequent mowing produces healthier grass than less-frequent mowing. Robots are perfect for this kind of mowing, and Happe said this will attract homeowners who want a manicured look.
If this sounds familiar, it should. After all, automatic dishwashers clean better than hand washing, in most cases. Washing machines get clothes cleaner than is practical by hand. These long-established appliances can be thought of as single-purpose "robots," which may soon be joined by a growing number of computerized appliances programmed for a growing number of household chores.
Who knows? Soon, you may be able to buy a robot that programs and supervises your other robots.
Copyright 2018 The Lawrence Journal-World. All rights reserved. This material may not be published, broadcast, rewritten or redistributed. We strive to uphold our values for every story published.