It shouldn't take long for new students at Kansas University to figure out what's in and what's out on Mount Oread.
Just look around.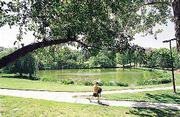 But just in case they need a little help, here's what some KU students all listed by their status in the spring of 2001 are saying is hot on the Hill.
What is the easiest major at KU?
"Based on my friends and the socialization they do and how little they study, I'd say political science." Brian Cooper, Plano, Tex., May graduate.
"American studies. I took one of the classes and it was one of the easiest classes I ever took." Erin McLain, Hutchinson senior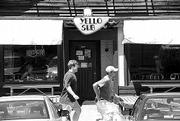 "Communications. It doesn't seem like it really has a lot of real substantive work. It doesn't seem as exact as arts or science or math. It's a little more ethereal." Erin Blocher, Colorado Springs, Colo., junior
"Communications. My neighbors are in communications, and they never do anything." Maryna Silchenko, Ukraine sophomore
What's the hardest major at KU?
"Pre-med. I was pre-med for a week and it was horrible, horrible. You have to have all these classes and on top of that you have to have four semesters of language." Megan Spooner, Manhattan sophomore
"Architectural engineering. You have a set curriculum for six years with little flexibility, and you have to be very talented at what you do or you have to change." Justin Nichols, Topeka, May graduate.
"Pre-med. They usually drop out in the middle of the semester." Leah Masonbrink, Fairway senior
"Architecture. They have to stay up all night long doing projects." Kimberly Thompson, Springfield, Mo., senior
Where's the best place to grab a bite to eat in the late afternoon?
"The Wheel for a Friday afternoon burger and fries and beverage of choice if you're of age. It's quintessential college." Cooper
"Jefferson's cafe. I love their hot wings, and on Thursdays they have beer specials. That works for me." Trevor Loney, Nevada, Mo., May graduate
"La Parrilla, because they have cheap food and they're outdoors on Mass. Street." Liz Moffitt, Hutchinson senior
"I like Yello Sub. It's close and you can be outside." Christina Spires, Augusta sophomore
What's the prettiest spot on campus?
"The island between Spencer Research Library and Strong Hall. I spent a lot of time there and studied." Loney
"Down by Potter Lake. There's a lot of open area with trees and grass. It's kind of away from the hustle and bustle of campus." McLain
"Behind Fraser's pretty nice. The view's pretty nice. You can see all over Lawrence." John Jenkins, Shawnee senior
"I like to sit at Anschutz Library and look at the view. They have those big windows and you can see forever." Spires
What's the most romantic place on campus?
"I kissed a girl once in the Campanile." Cooper
"Behind Blake Hall there is a virgin prairie. There's a little stone bench on the prairie, and there's usually no cars in the parking lot. A friend of mine told me if you ever proposed to a woman in Lawrence, that's where to do it." Loney
"I personally like the fountain behind the chancellor's house. It's pretty secluded. There's not a lot of traffic and there's benches around it." Stephanie Bohling, Byron, Neb., sophomore
What's the best place to play Frisbee, kick a soccer ball or play catch?
"I'd say the sports fields on Iowa (Street) and Clinton Parkway. I've played intramural sports over there." Matt Bertholf, Hutchinson senior
"Either the spot in front of Fraser (Hall) or south of the lake or by the dorm on the back of Daisy Hill." Spooner
"I play in that field at Robinson (Center). It's huge." John Jenkins
"Anywhere on campus where there's grass you can usually find something to do." Masonbrink
What's the best restaurant in Lawrence for a date?
"I guess if you're pretty expensive you can go to Don's Steakhouse. It's the best steak in town." McLain
"I like Mad Greek. I usually go there because you can get vegetarian meals. If you're not sure if a girl's vegetarian or not, it's a good place to find out." Bertholf
"Free State (Brewing Co.) is usually pretty good. It's got a nice atmosphere and it's on Mass. Street. It's not like Applebee's. It's something different." Spooner
"Paisano's. It's really romantic. It might be too much for a first date." Spires
What's the best dorm to live in?
"McCollum. It's the basic dorm style, and it has a lot of diversity." Moffitt
"Templin. They're really nice, pretty affordable and it's not the typical dorm lifestyle." McLain
"Naismith, by far. There's a pool. There's good-looking, rich girls." Jenkins
What advice would you give to an incoming KU freshman?
"I'd say take as small of (a class load) as you can and don't be afraid to change (your) major several times. Don't feel like you have a plan or feel like you have to stick to a plan." Loney
"Get involved in something. A lot of people come in worrying that KU is a big school. Get involved and it automatically becomes that much smaller because you get to know that group of people." Nichols
"Drive slow. There's lots of potholes." Spires
"I would say meet with your professors during (their) office hours and get to know them. They can help you with class and write letters of recommendation. It's a good way to make contacts." McLain
"Don't kill your GPA in the first year. A lot of my friends didn't make it here. Get your stuff over and then party." Jenkins
Copyright 2018 The Lawrence Journal-World. All rights reserved. This material may not be published, broadcast, rewritten or redistributed. We strive to uphold our values for every story published.