When Bob McWilliams founded West Side Folk in the mid 1990s, he strove to establish three goals:
1. Bring the very best people in acoustic music to Lawrence.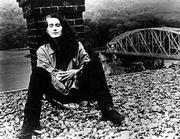 2. Present them in a listening-room environment.
3. Keep it as affordable as possible.
So far the strategy has succeeded. McWilliams' Lawrence-based organization continues to maintain its national reputation as a recruiter of touring folk talent, providing local audiences with venues other than coffeehouses to see their favorite singer-songwriters.
"One of the things I've tried to do is bring in people who are completely obscure they have no fan base then try and get people to see them based on my judgment," McWilliams says. "It's resulted in a lot of transporting, off-the-ground moments."
As a radio personality for KANU-FM 91.5, McWilliams is no stranger to the music industry. But he was quite unfamiliar with the concert promotion side of the biz, having become involved in it quite by accident.
Here is the lineup for this year's West Side Folk seriesOct. 4: Ellis Paul and Susan Werner.Oct. 13: John Gorka, with Sam Shaber opening.Oct. 19: Dave Carter and Tracy Grammer, with Brian Joseph opening.Oct. 26: The Lynn Morris Band.Nov. 9: Louise Taylor, with Allette Brooks opening.Nov. 17: Connie Dover and Roger Landes.Nov. 30: Dan Crary.Shows typically start at 7:30 p.m.For more information, call West Side Folk at 865-FOLK (865-3655) or visit
www.westsidefolk.org
.
"1994 we hosted a house concert for an extremely obscure singer of traditional Australian folk music," McWilliams remembers. "About 12 people came out.
"A month after that, I went to South By Southwest (a music festival in Austin, Tex.) for the first time in my life. This guy sees me in the exhibit area and sees that my name tag reads Lawrence. And he came over and says, 'Hey, you're from Lawrence, would you be willing to set up a house concert for us?' I had no idea who he was, but he turned out to be the manager of an extremely obscure singer-songwriter from Massachusetts named Dar Williams."
The man passed along a copy of his artist's CD "and it just blew me away," McWilliams says. After some frantic scrambling, they put together a house concert for Williams, expecting a dozen or so fans to show up. When 35 people attended, he knew he was on to something.
"It was a blast," McWilliams remembers. "So what happens is Dar tells all her folky friends what a great experience it was in Lawrence with Bob."
By 1996, things began to really escalate for the modest promotion team.
"It got to the point where we recruited a board, and we incorporated and got a not-for-profit status," he says.
Now, seven years since the first show, West Side Folk has cornered this viable niche market.
Though the original venue of West Side Presbyterian Church (the inspiration for the organization's name) has long been abandoned due to some friction about housing secular concerts in a place of worship, most of the shows continue to be held at churches. St. Margaret's Episcopal Church, Ecumenical Christian Ministries and Plymouth Congregational Church all regularly accommodate bookings.
Occasionally, the bigger acts like the not-so-obscure-anymore Williams are treated to 1,000-plus venues such as Liberty Hall.
"I like seeing bands in bars and clubs as much as anybody else," McWilliams claims. "But not all artists are suited for that."
West Side Folk tackles about two to five concerts a month. Some of the artists this year include Patty Larkin, Lucy Kaplansky, Small Potatoes, The Nields, Aoife Clancy, Jamie Anderson and Robin and Linda Williams.
"It's fun to be involved in a world where the artists like to hang out with people afterwards and just talk about stuff, and the pretense level is low," McWilliams explains. "And it's fun to deal with artists who actually like it when the opening act drives the audience berserk."
Lately, the pressure of maintaining this schedule along with his 5 p.m.-1 a.m. shift at KANU has been driving McWilliams a tad berserk. So beginning next season he is reducing his role at West Side Folk or at least he might be.
"I'm backing off from trying to do as much as I have," he says. "Nothing's happened on any sort of official basis. I'm still going to be doing booking and a lot of the publicity. But I'm definitely not going to be doing on-site production of every concert. I'm withdrawing from having all the responsibility on my shoulders and broadening the input."
Copyright 2018 The Lawrence Journal-World. All rights reserved. This material may not be published, broadcast, rewritten or redistributed. We strive to uphold our values for every story published.