Walk into the Kansas University Visitor Center at 15th and Iowa streets and you'll get a taste of just about everything the university has to offer.
The lobby features displays about KU's schools, its athletics department, extracurricular activities and other offerings. Look up and you'll see the fossilized skeleton of a pterandon, a prehistoric flying creature.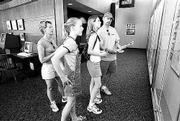 "We wanted, when people came in, to have a mini-museum feel, so we could give a feel of the university to a visitor," said Alan Cerveny, KU's director of admissions and scholarships, who also oversees the Visitor Center.
The pterandon is a good way to get visitors interested in taking a trip to KU's Natural History Museum. But Cerveny said visitors and staff are fond of it for another reason.
"One of the tours that came through in the early days, a student looked up at that and wanted to know if it was a prehistoric Jayhawk," he said.
More than 30,000 people a year walk underneath the "prehistoric Jayhawk," officials say, with all sorts of reasons for making a stop at the center.
"It's everything," said Jill Jevens, who works at the front desk. "We're heavy on prospective students, of course, but we get alumni coming here to reminisce and people who are lost. We give away a lot of campus maps."
A handier location
Before moving to its current digs, KU's admissions department was in Strong Hall, the main administration building. In 1998, it moved into the Visitor Center, a former cafeteria for Templin Hall.
"There were a lot of advantages to having the admissions office located centrally on campus," Cerveny said. "But it was not an easy place to get to.
"People used to be if they were going to visit us asked to park at the (football) stadium, then walk up the hill to Strong. It wasn't the most inviting experience for people."
So the decision was made to move west.
The idea to include a visitor center followed naturally, Cerveny said, from the accessible location.
"My thought was, if you put the admissions office at the edge of campus and put in a parking lot, we're going to become the de facto visitor center," he said. "That certainly has proved to be the case."
Such a center was needed, he said.
"If someone was trying to get general information about the university, there was no place to go," Cerveny said. "There wasn't a 'front door' to the university."
The new center increasingly serves as a gateway for the city of Lawrence, as well.
"The majority of the people are families looking at a place for their student to attend college, but some people drop in for information or directions and we provide those services as well," Cerveny said.
That's a big change, officials said.
For 133 years of the university's history, said Margey Frederick, associate director of the Visitor Center, there was no one to welcome non-students to campus or Lawrence.
Even enrolled students find it useful. Endy Rakhmatullah, a senior from India, dropped in one day earlier this summer for some enrollment information for a friend.
"It's good," he said. "I got what I needed."
Being able to get needed information in one location is an improvement, he said.
"The last couple of years, it's like a bouncing ball getting around," Rakhmatullah said. "But now it's excellent."
A national trend
That excellence is being emulated by other universities. Frederick said the University of Nebraska and Kansas State University are building similar facilities.
"All universities and colleges are going to visitor centers," she said.
"People need help, direction, and they get frustrated if they don't know where to go."
Cerveny said the center, aside from being a good resource, has also been an effective recruiting tool. Families in rural areas particularly like it, he said, when recruiting staff take care of them from the time they arrive, helping "shrink the size of campus."
"I think the campus visit is becoming the most important part of the recruiting program, so those first impressions are important," Cerveny said. "We want to do everything we can to leave students with a positive impression after visiting our center.
"We have a number of people who are coming to the university now because of the convenience of the Visitor Center."
Jevens agreed.
"We have rave reviews about the place," she said. "A lot of people walk in and say, 'Wow.'"
Copyright 2018 The Lawrence Journal-World. All rights reserved. This material may not be published, broadcast, rewritten or redistributed. We strive to uphold our values for every story published.