Delores Ringer, who began her duties as the new director of University Theatre in early August, says the theater's 2001-2002 season has the potential of sparking dialogue about race relations, women's issues and resistance to change and growth.
The Main Stage Series productions are "Six Degrees of Separation," about a black man conning a white family; "Othello," about a white man conning a black man; "South Pacific," which contains prejudice toward native islanders; and "The Cherry Orchard," about the struggle between those who want to preserve the past and those interested in tearing down the old and building something new that will be more profitable.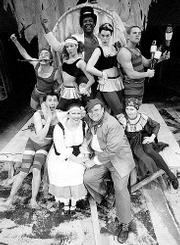 The Inge Theatre series is made up of five lesser-known plays that are about women and directed by female graduate students.
Good theater, Ringer said, allows viewers to connect to situations in their own lives.
"That's what theater can do for you. You can look at a situation under a microscope, sit back and observe it, and then pull back and analyze it," Ringer said. " All theater is alive. It's being able to look at a part of your life at a distance and being able to understand and make decisions."
In the spotlight
The annual University Theatre rally will be at 7 p.m. Aug. 22.The signup for auditions will be Aug. 23-24, with callbacks on Aug. 25-27.
The plays in the Main Stage Series all performed in Crafton-Preyer Theatre in Murphy Hall are a mix of tragedy, comedy and musical:
"Six Degrees of Separation, by John Guare and directed by Doug Weaver, Oct. 5-6 and 11-14. The play is about a young black man who claims to be the son of actor Sidney Poitier to gain admittance into the homes of prosperous New Yorkers looking to "do good."
"The Cherry Orchard," by Anton Chekhov and directed by John Staniunas, Nov. 30-Dec. 1 and Dec. 6-9. The comedy is about a once-prosperous family of landowners who lose everything because of a lack of the instinct for survival.
"Othello," by William Shakespeare and directed by Jack Wright, March 1-3 and 7-9. The play is about Othello who is devoted to his wife, Desdemona, which makes him an easy target for Iago, a man with a twisted intellect who hates Othello. Kansas City actor Walter Coppage will play the role of Othello.
"This is a big production," Del Unruh, outgoing director of University Theatre, said. "You rarely see this production because of the demands of the lead role."
Unruh said University Theatre routinely has had guest artists come in to help with a production and work with students. Last year, for example, Czech scenic designer Yaroslav Malina was on campus for several months.
"South Pacific," by Richard Rodgers and Oscar Hammerstein and directed by Staniunas, April 19-21 and 25-27. The musical, co-produced with KU's music department, is a romantic tale of a Navy nurse and a middle-aged French planter. Among its songs are "Bali Ha'i," "Some Enchanted Evening" and "There Is Nothing Like a Dame."
A different point-of-view
Unruh said productions appearing in the Inge Theatre represent "a year-long festival by, for and about women." The plays are:
"Butterfly Kiss," by Phyllis Nagy and directed by Megan Shea, Sept. 20-23 and 25-28. The story outlines the sexual and emotional abuse that leads to Lily Ross' murder of her mother.
"So What's New," by Fatima Dike and directed by Joy Wrolson, Nov. 8-11 and 13-16. The play is about four women and their relationships with each other and the outside world and how they survive. The play has been called "the South African 'Steel Magnolias.'"
"The Waiting Room," by Lisa Loomer and directed by Julie Noonan, Feb. 14-17 and 19-22. In the play, three women from different centuries modify their bodies to assume what they believe are desirable qualities. Each suffer ailments influenced by or related to the constraints of their times.
"Desdemona, A Play About a Handkerchief," by Paula Vogel and directed by Joy Richmond, April 4-7 and 9-12. The play portrays Desdemona not as the innocent woman found in Shakespeare's "Othello." Vogel gives a behind-the-scenes look at what the women are doing and saying while the men are doing their "thing" in the Shakespeare play.
"It's interesting to be able to make the comparison between 'Othello' and 'Desdemona' and to look at the differences," Ringer said.
"Lear's Daughters," by Eleanor Feinstein and directed by Julie Little Thunder, May 2-5 and 7-9. The play takes the classic Shakespearean tragedy of "King Lear" and twists it around to stage the life of three sisters under the watch of King Lear, their offstage father, after their mother died attempting to produce a boy. The play explores parental rejection, economic dependency and the stifling of women's gifts by patriarchal institutions and values.
For the youngsters
In addition, KU's Theatre for Young People will stage two plays:
"Afternoon of the Elves," adapted by Y York from the novel by Janet Taylor Lisle and directed by Jeanne Klein, at 7 p.m. Nov. 3. The play is about 11-year-old Sara Kate who is shunned by her peers. But 9-year-old Hillary becomes intrigued by Sara Kate and the elf village in the back yard of her dilapidated house. The play exposes middle-class assumptions about poverty.
"Tomato Plant Girl," by Wesley Middleton and directed by Klein, at 7 p.m. Feb. 9. The show is about a little girl who nurtures a plant until it grows into a Tomato Plant Girl. The play is an allegorical fable about how friends should respect one another.
Copyright 2018 The Lawrence Journal-World. All rights reserved. This material may not be published, broadcast, rewritten or redistributed. We strive to uphold our values for every story published.