The world of mergers and consolidations gets plenty of study in Kansas University's School of Business and now the study is spreading into the school itself.
School administrators and faculty are discussing the prospect of combining the school's master's of business administration programs in Lawrence and Overland Park, said William Fuerst, dean of business.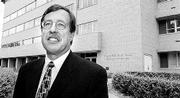 The MBA programs, now separate, serve groups of students with differing goals and backgrounds. The Lawrence campus typically attracts students with bachelor's degrees and relatively little work experience, while the Edwards Campus in Overland Park draws working professionals looking to get ahead through part-time course work.
In today's competitive business and academic environments, Fuerst said, there appears to be little reason to retain two programs, in two locations, with two sets of faculty and two enrollment bases.
He considers the "streamlining" effort as a way to ensure that the school continues to attract high-quality students both full- and part-time to ensure the school's long-term success.
"When we try to operate two different programs, we spread ourselves a little bit too thin," Fuerst said. "If we have one consolidated program, it makes it a little bit easier to allocate the faculty resources to that program. That's a real benefit to us."
The move clearly is on the fast track. Fuerst wants to have the framework of the combined program in place early this fall, in time for recruiting students for enrollment in fall 2002, when the program would begin.
"We're looking at it real hard," he said. "What we'll end up with are common requirements for one MBA program. Students whether they're full-time or part-time they'll all be working on the same program. We'll be able to add the best parts of both of our current programs into a single program."
But several details remain undetermined, such as locations for specific classes. Both campuses are certain to remain active in MBA instruction, Fuerst said, but their formats may change.
"We're trying to be location nonspecific at this time," Fuerst said, in a June interview. "We anticipate, however, a great presence in the Kansas City area with our MBA program. We see opportunities there. Our Edwards Campus program continues to grow."
The school has 100 full-time MBA students enrolled on the Lawrence campus. About 330 are enrolled at the Edwards Campus, most of whom take classes on a part-time basis.
KU competes in the Kansas City area with several MBA programs, including Rockhurst College and the University of Missouri-Kansas City.
"The market is big enough there for all of us to be able to compete," Fuerst said.
But don't get the idea that the MBA program is shrinking.
This fall, students will be able to enter an e-business "area of concentration" within the MBA program, Fuerst said. Several others are being considered, including marketing, finance and international business.
The idea is to create an MBA program where students spend the first year working on a core set of courses that all students must complete. Then, in year two, students would decide where to focus their studies.
And don't get fooled by the dot-com bust, Fuerst said. Just because many Internet companies failed in recent years doesn't mean that the Internet will fade away as a business force.
"In a few years we won't even be talking about e-business anymore, because all business will be electronic in some form," Fuerst said. "It's not just dot-com companies it's major businesses that are using the Internet."
Building upon strengths
Offering areas of concentration will permit students to focus on valuable businesses sectors, Fuerst said. It also will allow the school to build upon its strengths, with faculty strong in selected areas of study.
"The top-quality programs typically have strengths in marketing and finance," Fuerst said. "We have strengths in our faculty in those areas. We want to take advantage of that.
"The key is to find a way to differentiate your program, and that's what we're trying to do here. We don't want to have a general, run-of-the-mill MBA program. We want something that students see as value added."
The shift to a unified MBA program could change entrance requirements. The school likely will require that students applying to become MBA candidates must have obtained at least two years of experience in the business world, Fuerst said.
"We would want that to be of a good, practical nature that would allow them to bring some of those experiences back to the classroom, so they can identify with some of the material," Fuerst said.
Future MBA students also may have increased opportunities for international study, Fuerst said.
KU already operates an MBA program in northern Italy, granting degrees for students attending the program from 20 U.S. colleges and universities including the universities of Oklahoma, Missouri and Florida. The one-year program typically draws about 50 students from the United States, Europe and Asia and the Pacific Rim.
Fuerst said he would work this year to focus on attracting private financing to the business school, given the expected increases in operational expenses and no increase in state financing.
The school must focus on attracting and retaining quality faculty and students, mostly through increased compensation and scholarships, Fuerst said.
The school also is busy updating Summerfield Hall, home to the business school in Lawrence. Two classrooms were to be outfitted for multimedia features during the summer, but a larger project to upgrade wiring throughout the building for broadband Internet access also is ongoing.
Copyright 2018 The Lawrence Journal-World. All rights reserved. This material may not be published, broadcast, rewritten or redistributed. We strive to uphold our values for every story published.