In case you haven't heard, college is all about making adjustments.
For starters, most of your friends aren't here. Neither are your parents, so if you want clean underwear, you'll have to do your own laundry.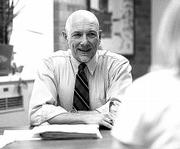 Your teachers don't care that you're popular. If you don't go to class, you'll probably flunk. And if you'd rather drink beer than study, that's fine. No one's going to stop you.
College, it seems, is just one giant adjustment after another. It's easy to stray off course.
Fortunately, the folks at Counseling and Psychological Services they're on the second floor of the Watkins Health Center, the building sort of behind the Robinson Center are ready to help.
"We see between 1,250 and 1,300 students a year," said Frank DeSalvo Jr., the services' director.
"Most of them are healthy people who are going through some sort of difficulty for a brief period of time."
Most of these difficulties, he said, are resolved in one to three sessions.
"The analogy we make is that there's a patch of ice on a highway that, otherwise, is clear," DeSalvo said. "All you need is somebody to help you get back on the road so you can be on your way. We're here to give you that little help."
Common problems affecting students are: mild to moderate anxiety over relationships or grades; mild to moderate depression; substance abuse; or troubles at home.
"There's a wide range of symptoms or signs that something's not right," DeSalvo said, pointing to significant changes in eating habits, sleeping patterns, loss of motivation and fatigue.
"All of us, I think, joke about being tired or not getting enough sleep these are all very common conditions," he said. "But we tell people that when these things hang on for 10 days or two weeks, that's when there may be a problem."
So, for example, if you break up with your significant other, it's perfectly normal to lose sleep for a couple days. But if you're still tossing and turning two weeks later, you owe it to yourself to call Counseling and Psychological Services, 864-2277. All calls are confidential.
"Many times, people tend to judge their success as a person in terms of whether they're able to start and maintain serious relationships," DeSalvo said. "But when you're 18 or 19 and you're just starting to figure out who you are, these relationships can be very difficult."
It's not unusual, DeSalvo said, for students to expect relationships to turn serious after a week or two.
"Obviously, those are unrealistic expectations," DeSalvo said. Nevertheless, he knows of students who've contemplated suicide over relationships that soured after three months.
Another problem that's not as common but every bit as real is the anxiety over situations at home situations that are compounded by distance, uncertainty and confusion.
"There's a supposition out there that once a son or daughter is out of the house, they're not as affected by what goes on there," DeSalvo said.
"So we get a fair number of students who get a phone call that goes something like: 'Don't be alarmed, but your father and I are getting a divorce. It's not your fault and we don't want you to worry. You just study.'
"These things are said with the utmost sincerity," he said. "Parents assume their son or daughter won't be as affected because they're out of the home. But many times, being away only adds to the difficulty the confusion."
Where to go for help
While you're at KU, if you're concerned that you or a friend may have an eating disorder, you're encouraged to call Counseling and Psychological Services.
"We get a lot of calls on eating disorders," DeSalvo said. "But it's very difficult to treat the folks themselves because they won't come in, so a lot of the time we end up consulting and strategizing with the person who's concerned."
Counseling and Psychological Services is open from 8 a.m. to 5 p.m. Mondays, Thursdays and Fridays. On Tuesdays and Wednesdays, it's open until 8 p.m. The first session is free. Followup sessions are $9 each.
Copyright 2017 The Lawrence Journal-World. All rights reserved. This material may not be published, broadcast, rewritten or redistributed. We strive to uphold our values for every story published.