Hartford, Conn. — At the beginning of each well-baby visit, when the pediatrician asked Joan how she was doing, the new mother would nonchalantly say OK.
Never mind that she was tossing and turning all night, even after her infant daughter was fast asleep.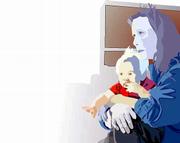 She didn't mention her looping fears that something terrible was going to happen to her baby, or the time she spent staring at her closet, unable to decide what to wear.
Joan, a 37-year-old professional, had a high-level job and a perfectly organized life before she became a mother in May 1999. It took months of suffering and searching before she realized that the anxiety and despair she was experiencing were not an inevitable part of new motherhood.
Joan, who asked that her real name not be published, never thought about harming herself or her baby extreme reactions that have brought postpartum disturbances into the glare of national attention recently.
In fact, the Hartford-area woman is far more typical of women with postpartum depression suffering from paralyzing and seemingly unfounded anxiety that rendered her miserable, confused and ashamed at a time that she'd been told was supposed to be one of the happiest of her life.
Suffering in secret
Although as many as 400,000 mothers in the United States experience postpartum depression each year, almost half suffer in secret, said Cheryl Tatano Beck, a professor in the University of Connecticut School of Nursing who specializes in postpartum depression.
One reason is that women may not realize they are sick, or are embarrassed to admit it. Another is that doctors who routinely see new mothers do not ask about postpartum depression.
Beck hopes that will change this autumn, when a 35-question survey she developed will be published by a psychological testing company and available to clinicians nationwide.
The survey gives doctors, for the first time, a quick way to determine whether their patients are suffering from postpartum stress.
Beck hopes the survey will be used not only by obstetricians, but also by pediatricians and general practitioners, who tend to see new mothers more regularly during a child's first year of life.
The survey asks women if they have experienced symptoms including sleep disturbances, eating problems, feelings of guilt, emotional instability or suicidal thoughts in the last two weeks.
Answers of yes to several questions indicate that the doctor should refer the mother for treatment.
"For many women there's an adjustment; like with any transition, there are losses, grieving," said Jeanne Watson Driscoll, a clinical nurse specialist in Wellesley, Mass., who treats women with postpartum depression. "If you experience symptoms that interfere with your everyday living, you have a problem."
Remembering mom
Although postpartum disorders are commonly treated with counseling, antidepressant medications or a combination of the two, there has been little research to determine the best course of treatment.
Part of the problem is that there is no clear understanding of why 80 percent of women experience some sadness, called "baby blues," for a few weeks after delivery, but only 10 percent to 20 percent spiral into clinical depression. A tiny fraction of new mothers go on to full-blown psychosis, during which they may try to harm themselves or their children.
"It's multifactorial," said Dr. Neill Epperson, an assistant professor of psychiatry and obstetrics and gynecology at the Yale University School of Medicine. "It's hormones, genetics, poor marital relationships, poor social support, sleep deprivation."
Epperson is using sophisticated neuro-imaging technology to look at differences in the brains of new mothers with and without postpartum depression and women who are depressed, but have not recently had babies. She is trying to determine how hormonal activity linked to pregnancy and childbirth affects the brain.
She hopes her results will lead to more effective treatments for mothers who are now largely ignored.
"We don't take care of our mothers," Epperson said. "Pregnant women are revered, but once you have the baby, all the focus is on the baby."
Joan said she might have been spared months of misery if only her pediatrician had asked her a few pointed questions.
Ultimately, she was treated with a combination of antidepressant medication and counseling after several unsuccessful attempts to find help.
"I'm back in my own skin now; I used to say I felt like someone had occupied my body," said Joan, who is now healthy and enjoying her 2-year-old daughter. "But I walked away from the experience with not good feelings about the medical profession, because they left me out there with nothing."
Copyright 2018 The Lawrence Journal-World. All rights reserved. This material may not be published, broadcast, rewritten or redistributed. We strive to uphold our values for every story published.