Kansas City, Mo — Slugger Mike Sweeney delivered another hard hit, charging the mound and throwing Jeff Weaver to the ground before the Detroit right-hander even threw a pitch as the Kansas City Royals beat the Tigers 7-3 Friday night.
Numerous punches were thrown as the benches and bullpens cleared in the sixth inning. There was a 12-minute delay and Sweeney, Royals pitching coach Al Nipper and Detroit bench coach Doug Mansolino were ejected.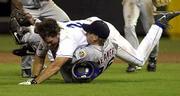 As Sweeney got ready to bat with two outs and a runner on second base, he appeared to ask plate umpire Mike Fichter to check the ball. Weaver then said something to Sweeney, and turned his back.
Sweeney is regarded as one of the more mild-mannered players in baseball while the 6-foot-5 Weaver worked as a security guard at an April taping of the "Jerry Springer Show."
But Sweeney threw his helmet at Weaver, rushed the mound and tossed the pitcher to the ground. Players, coaches and Kansas City manager Tony Muser got into the fray.
As things started to slow down, Muser and Tigers outfielder Wendell Magee began exchanging words. As more punches were thrown, several players went after Sweeney, who had been pulled from the mass of players.
The Tigers were leading 2-1 at the time of the fight. When play resumed, Dave McCarty replaced Sweeney and walked, and Raul Ibanez hit a tying single.
After a wild pitch, Weaver (10-11) hit Mark Quinn with a pitch, loading the bases, and was pulled.
Reliever Matt Perisho got Dee Brown to hit a routine fly, but center fielder Roger Cedeno had the ball glance off his glove for an error that allowed three runs to score.
Perisho walked Donnie Sadler, and Brent Mayne hit a two-run double that capped a six-run burst.
Copyright 2018 The Associated Press. All rights reserved. This material may not be published, broadcast, rewritten or redistributed. We strive to uphold our values for every story published.