Kansas University students studying abroad can ride a camel through Africa's Sahara sand dunes.
Or attend a parade in northern India for the end-of-winter holiday of Holi, in which men ritualistically pierce their tongues with a 6-foot-long skewer.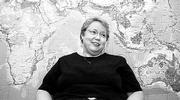 They can follow their academic muse for a six-month stay in the former Soviet Union. If not into long-term excursions, there's a spring-break trip to Dublin, Ireland, and the St. Patrick's Day parade. Don't forget the Guinness.
"There are so many places for students to go to learn and study," said Susan MacNally, assistant director of KU's study abroad program in Lippincott Hall.
She said students who take the plunge should expect to come away from the experience a changed person.
"You see things differently," MacNally said.
1. Visit Make an appointment at the study abroad office, 108 Lippincott, to attend a group informational meeting, request brochures or view a video.2. Options Define goals for studying abroad and identify suitable programs.3. Money Attend a study abroad budget meeting to nail down program expenses and learn how to use financial aid to cover costs.4. Study Learn about the country you are interested in visiting. Talk with exchange students or veteran travelers.5. Apply Deadlines are between Feb. 1 and March 15 for fall, summer and year-round programs; deadlines for programs during the spring are between Sept. 1 and Oct. 15.6. Academics Discuss study abroad plans and course options with an academic adviser.7. Accepted Send acceptance forms to the study abroad office, apply for a passport and make travel plans.8. Orientation Attend full-day, pre-departure orientation with staff and students. Ask questions.9. Road trip Pack bags, kiss everyone goodbye and go.
Since the 1950s, KU has promoted international exchange as an important link in education. The university helps coordinate about 75 programs of one semester, an academic year, summer and spring break in length in more than 50 countries. Just about any academic interest can be satisfied through study abroad.
Susan Gronbeck-Tedesco, interim director of the study abroad program, said the most popular destinations for KU students are Italy, Spain, Costa Rica, Great Britain and France.
"We have some good programs in Italy ... besides being a very good place to be," she said. There are opportunities in Italy for students to focus on business, art history, language, architecture, printmaking and European studies.
Interest is high for less well-traveled places, such as Nepal and Hungary, Gronbeck-Ted-esco said.
She said students who completed study abroad programs tend to have a more global perspective.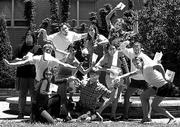 "We try to help prepare students for the world they're entering," she said. "There are a lot of things that are very hard to understand unless you live in them."
MacNally said different cultures have a variety of approaches to gender roles, personal space, food, personal hygiene and time.
"There are even different relationships between students and professors," she said.
Generally, students get involved in overseas studies to obtain academic credit, learn a foreign language, gain practical experience or bolster a resume.
A word of caution
Trips taken by students abroad aren't without risk.
In May, a KU student was murdered in Golfito, Costa Rica. Shannon Martin, 23, Lawrence, was on a research trip, but had previously stayed in Golfito in 2000 under the study abroad program.
Gronbeck-Tedesco said this was the first time a KU student had been murdered while in a foreign country.
Two KU students died in accidents one drowned in 1976 in Ireland and another died in a bus accident in 1999 in Spain.
KU began sending students to San Jose in 1958 and to Golfito in 1992.
"There is no history of violence in Golfito," she said. "We're assuming it was just a random act of violence."
Gaining permission to participate in KU's study abroad program is less onerous than most students imagine.
Undergraduate students with a minimum 2.75 grade point average and graduate students with a minimum 3.5 GPA are eligible. Students must be enrolled full time.
All students are charged in-state tuition when abroad.
Students can apply regular financial aid to academic expenses for study abroad. Scholarships through KU range from $400 to $2,000 for semester and yearlong programs. The summer, winter and spring-break programs offer awards ranging from $200 to $1,000.
KU Chancellor Robert Hemenway made it a goal to have 2,000 students studying abroad in the year 2000. Last year, there were 1,546, about double the number when Hemenway arrived in 1995.
Gronbeck-Tedesco said she'd like to roll back the clock and be a study abroad student.
Her preferred destination?
"Africa," she said, "because I've never been there."
Copyright 2018 The Lawrence Journal-World. All rights reserved. This material may not be published, broadcast, rewritten or redistributed. We strive to uphold our values for every story published.