Kansas University students with the Center for Community Outreach don't shy away from the dirty work of volunteerism.
No project better illustrates that than GROW: Community Garden Project. Students and children involved in the project tend an organic garden at the Boys and Girls Club of Lawrence.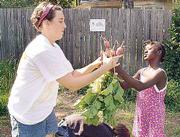 The seeds of teamwork, horticulture, nutrition and environmental awareness are planted.
If all goes well, their volunteer spirit flourishes.
"It's a great feeling that you can go out in the community and make an impact," said Anneliese Stoever, co-director of the Center for Community Outreach.
Stoever of Overland Park and Katie Harpstrite of Andover are managers of the nonprofit organization for the 2001-2002 school year. They expect to involve more than 6,000 volunteers in a dozen center programs.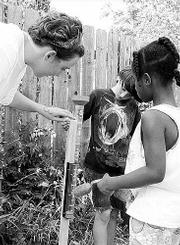 "It's a good time," Harpstrite said. "It's good fun. If it wasn't, there wouldn't be so many doing it."
The center is financed with $15,000 from Student Senate and donations from the community.
Started in 1990
The center's origins are found in a 1990 effort by Michael Schreiner, then-KU student body president, to set up a Student Senate board that served as a volunteer clearinghouse for students who wanted to get involved in Lawrence.
In 1992, the board formally took the name Center for Community Outreach.
Its mission is to challenge, educate and empower KU students interested in creating a foundation for life-long volunteerism.
The work broadens their perspectives and forces them to see things they wouldn't find in the classroom, Stoever said.
"This should be a program for everyone every personality," she said.
In addition to GROW, the center's programs are:
Alternative Breaks. This intensive volunteer experience is offered over weekends, spring break and winter break. It allows students to travel to sites across the country to serve local agencies.
Best Buddies. It pairs KU students with local mentally disabled high school students and recent high school graduates to provide friendship and educational opportunities.
Concerned, Active and Aware Students (CAAS). This advocacy group is involved in hunger, homelessness and environmental policy through coordination of one-time and ongoing events.
Hawks for Health. Volunteers provide community members with information about free and low-cost health services.
Intergenerational Program. Volunteers deliver food to the homebound, record memories of the elderly in memory books and organize activities attended by students and the elderly.
Into the Streets Week. This annual outreach program at the beginning of the school year introduces students to a wide range of volunteer opportunities.
Jubilee Cafe. Volunteers staff the cafe, which provides breakfast for homeless and in-need community members in a restaurant-style environment Tuesday and Friday mornings.
Mentors in the Lives of Kids (MILK). Volunteers work in specific areas, art or reading, with children ages 6 and older at Boys and Girls Club of Lawrence.
Music Mentors. KU students with vocal training or experience playing an instrument tutor students after school at East Heights School and Central Junior High School.
Natural Ties. Volunteers commit one day each week the entire the school year to building a friendship with a disabled person.
Students Tutoring for Literacy. KU students help people obtain their GED, learn English as a second language, read their first book or fill out job applications.
Agency referrals
In addition to these programs, the center refers potential volunteers to more than 50 agencies in the Lawrence area.
"Regardless of your major," Harpstrite said, "there are a lot of things you can do in your community."
Volunteerism is a personal activity for Stoever and Harpstrite. Both were touched at a young age by kindness of others.
Stoever's home in Andover was hit by a tornado when she was 11 years old.
American Red Cross volunteers were there to lend a hand, and she hasn't forgotten what they did.
"It's important to give back," she said.
Harpstrite volunteered with her parents at soup kitchens and homeless shelters in her youth.
Her volunteer spirit goes beyond providing assistance to strangers.
"It's not just helping," she said. "It's learning about people. I love the human interaction."
The duo strives for a shift in the student body away from volunteerism as something they "have" to do to something they "want" to do.
"Volunteering should be fun," Harpstrite said.
Copyright 2018 The Lawrence Journal-World. All rights reserved. This material may not be published, broadcast, rewritten or redistributed. We strive to uphold our values for every story published.