Without fumbling through their pockets for coins, students at Kansas University can pick up an armload of newspapers each morning this fall semester.
A quick swipe of an ID card will allow KU students to sample the weekday contents of the Lawrence Journal-World, USA Today, New York Times and Kansas City Star.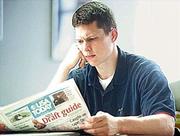 The cost of the innovative project to each KU student $13 a year is less than the price of two movie tickets.
"The newspaper companies are willing to do it fairly cheaply because they're interested in promoting the academic side of their newspaper and establish a base of readers," said Ben Walker, the 2000-2001 KU student body president and the program's leading advocate.
KU's student paper, the University Daily Kansan, will remain on racks scattered across campus. The Kansan has a circulation of about 10,000.
Initially, the idea of raising student fees $6.50 per semester to finance the newspaper program received a chilly reception from some students. The proposal struck a nerve with staff working at the student newspaper.
Opposition dwindled when a pilot program indicated Kansan readership wouldn't dramatically suffer and surveys suggested that students wouldn't mind paying a fee for access to the papers.
"I really like it now," said Kursten Phelps, a Manhattan journalism major and this fall's Kansan editor. "Anything that gets people to read more, it's beneficial to us."
A survey conducted by KU Student Senate, following a four-week pilot program in the spring, indicated that many students endorse assessment of a new fee to pay for the newspaper program.
Thirty-seven percent of 201 students surveyed were willing to increase fees $10 or more, while 20 percent expressed a desire to raise fees $5 to $10. Thirty-four percent thought a fee increase should be less than $5.
A separate poll conducted by the Kansan's online edition found 32 percent of students welcomed the opportunity to get the four extra newspapers.
However, 30 percent expressed concern that student fees were already too high.
Assuming there are 22,000 full-time students at KU next year, the program will cost the student body $286,000.
Justin Mills, the new student body president, remains skeptical of the program's merits.
As a member of Student Senate, he voted for the program because a majority of students he talked with supported it.
However, Mills said raising required fees forced students with no interest in the newspapers to subsidize a program for those who did.
Organizers of the program don't expect every student on campus to grab papers each day. Daily circulation of the four extra papers could be around 5,000, Mills said.
"What about the people who never read a paper?" he said.
Mills said another worry was the potential to add to the amount of trash on campus. On any given day during the school year, pages of the Kansan can be found blowing across university grounds.
"If it's not a very well-used program, if it's going to cost more in the future or if there's a lot of trash, we'd have to review it," Mills said. "It would have to be scrapped."
David Ambler, KU's vice chancellor for student affairs, said the newspaper project deserved time to evolve. Encouraging college students to engage in in-depth reading of news is a worthy goal, he said. It could have academic benefits for students because many stories are connected to topics they study in class.
"Especially now, in a day when they get so much information that doesn't require them to read," he said.
Copyright 2018 The Lawrence Journal-World. All rights reserved. This material may not be published, broadcast, rewritten or redistributed. We strive to uphold our values for every story published.