Think student government doesn't get anything done?
Just mark Oct. 18 on your calendar.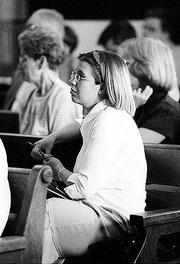 That's the start of a four-day holiday, courtesy of the Kansas University Student Senate, which thought it would be a good idea to have a fall break. They promoted the issue for a while and then encouraged KU administrators to go along.
Students who serve in student government say they work on important issues and make money-decisions, but most of their fellow students don't even know what their government is up to.
Which is too bad, student leaders say, because they are missing out on an opportunity to help direct KU policies.
"They can participate in shared university governance," said Danny Kaiser, director of organizations and leadership at KU. "Not everything is dictated from the top down to students. They have been very successful in getting changes made by the administration."
KU student government includes a president, vice president, several executive-type officers and more than 80 senators some elected, some appointed. The senators represent various constituencies, such as classes, schools, housing, off-campus students and nontraditional students.
The Student Senate and executive branch work on policies and annually appropriate hundreds of thousands of dollars from student fees to various groups and organizations.
Kyle Browning, student body vice president for the 2001-2002 academic year, said he became involved in student government because he "saw an opportunity to influence things at the university."
The Senate includes five major committees: Finance, Graduate Affairs, Multicult-ural Affairs, Student Rights and University Rights. Students are encouraged to join one of them by filling out a membership form available at the Student Senate office, 410 Kansas Union.
Browning said legislation generally starts in the committees, then percolates up to the full Senate and president before being sent to the KU administration.
Kaiser said the administration generally supports proposals that gain Student Senate approval.
A rewarding experience
Partha Mazumdar, who has been involved in student government for several years, said despite the sometimes rancorous debate in student politics "it's rewarding."
And he said if there is a sense of apathy, it's not the fault of student government, but of KU's administration.
"Other than the men's basketball team, the university doesn't promote a sense of community very well," he said.
Browning said students, especially underclassmen, are pulled in many directions, which makes it difficult to get them interested in student government.
He and Justin Mills, the newly elected student body president, plan to make student government more accessible.
"We need to take the Senate to the students," he said.
Copyright 2018 The Lawrence Journal-World. All rights reserved. This material may not be published, broadcast, rewritten or redistributed. We strive to uphold our values for every story published.