A few weeks from now, the Kansas University Endowment Association will officially unveil "KU First: Investing in Excellence," the largest fund-raising campaign in the school's 137-year history.
With KU First, the Endowment Association hopes to raise at least $500 million over the next three years. That's nearly double the amount raised during its "Campaign Kansas," which ran from 1987 to 1992.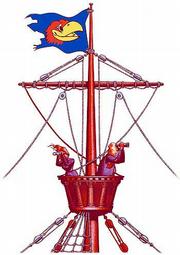 If successful, KU First will define the next phase of the university's growth.
"I'm sure that $500 million sounds like a lot of money," said Forrest Hoglund, chairman of the campaign's 18-member steering committee. "But if you're not raising that level of money for this size institution, you are falling behind."
KU, he said, can neither afford to rest on its laurels nor rely on tuition and support from the state.
"There are only 2 1/2 million people in the state of Kansas," Hoglund said, "so the Legislature will support KU and the other educational institutions to a degree, but it's not going to be able to fund (KU) to the degree that's necessary to make it a really great university."
Hoglund and Endowment Association officials have declined to say much about projects in the KU First package, preferring to wait until the campaign's official Sept. 7 kickoff.
But the list is known to include: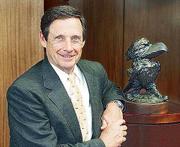 Scholarships and research
Student scholarships, graduate fellowships, undergraduate research awards, study abroad and international opportunities, $116 million.
Distinguished professorships, teaching and research professorships, faculty scholar funds, and teaching and research awards, $91 million.
Clinical neuroscience research, the Kansas Cancer Institute, cardiology sciences and applied genetics in systems biology, nearly $100 million.
Edwards Campus
Construction of a second building, $15 million.
KU Medical Center
Medical research building, $20 million.
Brain research and human imaging center, $10 million.
Main Lawrence campus
Two new scholarship halls, $5 million.
New engineering laboratories, $15 million.
Landscaping, $10 million.
Strength and conditioning center for athletics department, $8 million.
Track and soccer stadium, $10 million.
Women's softball stadium, $4 million.
Undergraduate science laboratories, $30 million.
Biodiversity research center and Natural History Museum expansion, $15 million.
Plans for the Natural History Museum expansion include space for exhibiting the three camarasaurus two adults, one juvenile found a few years ago by a crew of KU paleontologists in Wyoming. Camarasaurus are the long-necked, long-tailed dinosaurs often recreated in books and movies.
Today, space limitations force the museum to keep much of its dinosaur collection in storage.
Getting a start
Hoglund, 68, and his wife, Sally, gave KU First its unofficial start last October with a $7 million pledge. The gift includes $4 million for the establishment of a new center for brain research at the Med Center.
Married 45 years, the Hoglunds both graduated from KU in 1956. They live in Dallas.
A Lawrence native, Forrest Hoglund worked for 20 years for Exxon Corp., eventually serving as vice president for worldwide natural gas.
He later became chairman and CEO of what was known as Enron Oil & Gas Co. (now EOG Resources) and retired in 1999.
Expected to open next year, the Hoglund Brain Imaging Center will be one of 12 U.S. facilities equipped with sophisticated brain-imaging machines that scientists hope will shed new light on the causes and cures for Alzheimer's disease and other diseases of the brain such as cerebral palsy, Parkinson's disease and epilepsy.
The center will be one of three facilities able to scan images of brain activity in fetuses without the use of X-rays, chemicals, injections or high-magnetic fields.
Though proud of the center that bears his name, Hoglund said he "doesn't want to brag about it." But, he said, "It shows what an individual can do. It's going to be exciting, and, really, that's what KU First is about creating excitement by investing in excellence."
Dolph C. Simons Jr., chairman of the Kansas University Endowment Association, said, "The association and the university are fortunate to have the services, commitment and vision of Forrest Hoglund chairing the KU First campaign.
"He will do a superb job and I am confident that with Forrest's enthusiasm, drive and desire to succeed, we will achieve the $500 million goal and perhaps exceed this challenging target."
Simons, who is also the editor and publisher of the Lawrence Journal-World, noted that Hoglund follows in the footsteps of two "able and committed individuals" who chaired KU's two previous comprehensive capital campaigns. "Program for Progress" was conducted in the 1960s with a goal of $18.6 million and was chaired by the late Stanley Learned of Bartlesville, Okla. Giving for that drive totaled more than $21 million.
"Campaign Kansas" was conducted during the late 1980s and early 1990s with Jordan Haines, Wichita, as chairman. Simons said the original goal for that drive was $150 million, then raised to $177 million. The drive eventually exceeded $265 million.
Hall Family donation
The Hall Family Foundation created unprecedented excitement June 19, when it announced it would donate $42 million over the next five years to a long list of KU First projects benefiting the humanities, life sciences, the School of Business and Edwards Campus.
More than two-thirds of the Hall Family Foundation grant will underwrite or help finance new buildings, research and professorships at the Med Center in Kansas City, Kan.
"With this grant, we hope people will realize KU is one of the universities that is going to shape the future of this city," said Bill Hall, president of the Hall Family Foundation.
Hall's comment, Hoglund said, underscores a "slight" difference between KU First and earlier fund-raising drives, which tended to emphasize the Lawrence campus.
"Proportionately, more will go to the Kansas City area the Med Center and the Edwards Campus than has been the norm," he said. "Lawrence will still get the bulk, but the chancellor has been very effective in making sure that KU is a major part of the life sciences initiative that Kansas City is taking steps to (build) its economy around. It's a role that's very important to KU's future."
Surveys and plans
Planning for KU First began July 1, 1998. A subsequent survey of prospective donors, Hoglund said, found that most understood the university's needs and were not opposed to hearing more about them.
"They didn't run when they heard about it," Hoglund said, laughing.
"One of the most striking things was that a very high percentage ranked KU first or second in their areas of philanthropic interests," he said. "To have that kind of response at a time when there's so much competition for those dollars convinced us that we could reach $500 million."
Hoglund confirmed that KU First already has raised close to $250 million.
"That's how these things go," he said. "You don't announce you're going to do something until you're pretty sure you can make it happen. We've reached that point, so we're off and running."
KU First isn't just for corporate executive types.
Over the next three years, alumni and friends of every stripe will be encouraged to contribute.
"Before we're through, I expect we'll make over 30,000 contacts," Hoglund said. "That's not an exaggeration."
And KU First isn't about all things big. It will trickle down.
Plans call for more than $200 million to be set aside for scholarships and professorships.
"I see KU First translating into better buildings and facilities," said Jan Sheldon, a professor of human development and family life who serves on a committee that has helped define the university's on-campus needs. "But it's also going to mean better programs for faculty and students.
"KU is the state's research university, so we're always going to be heavy on research we all know that," Sheldon said. "But a major effort is being made to turn that research into information that's relevant and that can be taught to students in ways that will both give back and improve the state of Kansas."
Copyright 2018 The Lawrence Journal-World. All rights reserved. This material may not be published, broadcast, rewritten or redistributed. We strive to uphold our values for every story published.