A lot is happening at the Kansas University college that serves more than half of the student population.
Not only does the College of Liberal Arts and Sciences have an interim dean this school year, but it also is offering several new programs and classes.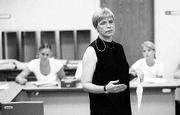 The college has about 13,000 undergraduates, and 1,800 students are enrolled in the graduate division. The college is made up of traditional departments such as English, history, biology and philosophy as well as more modern programs such as public administration and museum studies.
Kathleen McCluskey-Fawcett, KU's associate provost, will lead the college during the next year and work with faculty and students. She was appointed last spring as the interim dean to replace Sally Frost Mason, who had led the liberal arts school since 1996. Frost Mason left this summer to become provost at Purdue University in West Lafayette, Ind.
McCluskey-Fawcett is no stranger to KU she has been working here since 1985 and served as the associate dean for social sciences from 1989 to 1994.
"I thought it would be interesting work for a year," she said. "It was basically a call to service. I answered the call."
McCluskey-Fawcett said she will continue teaching several child psychology classes. She received a master's degree and a doctorate in child development and child psychology from KU.
In her role as interim dean, she will oversee more than 50 departments and programs, sabbatical leave requests, promotions, recruitment and hiring of new faculty, and will help facilitate the work of current faculty. She said she is looking forward to working closely with the college's faculty, deans and students.
"I loved being in the college office before and I'm glad to be back," McCluskey-Fawcett said. "At the end of the year, I hope the college, when the new dean comes in, is in as good of shape as it is now."
KU is conducting a national search for a new dean this fall.
Expanding services
During the past two years, the College of Liberal Arts and Sciences has been busy developing new undergraduate and graduate programs.
This fall, McCluskey-Fawcett said the college is extending its outreach efforts in the Kansas City area. She said the Edwards Campus in Overland Park is offering a bachelor's degree completion program for people who have had at least two years of college.
She said the first two areas of study are molecular biosciences and what's called "Language Is Literature and Writing."
"It's really to serve the Kansas City area for nontraditional students," she said. "This will help working adults complete their degrees."
On the graduate level, Kathy Mason, director of the school's graduate division, said the Edwards Campus also is offering a master's degree in international studies for the first time.
"That is something a little different for us to have only the degree offered at the Edwards Campus," she said. "This is its first year and will draw heavily on the Kansas City metro population."
In the program, Mason said, students will study global issues as well as focus on a particular area of interest in the world such as Latin America or western Europe.
"This (degree) appeals to people in the working world if their job is in education or politics. Various careers need to have an international aspect ... and it will help them advance their careers as well as learning about the world," she said.
Local offerings
Closer to home, Mason said the 2-year-old indigenous nations studies master's degree program is starting to grow.
"Each year the incoming class is a little bit larger," she said. "I think the fact that four students have successfully completed it in two years will show other students it is pretty well-established."
The average master's program takes two to three years to complete, Mason said.
In one of the college's departments, Diane Loeb, associate professor of speech, language and hearing, said she is excited about teaching a new graduate course in childhood language intervention and assessment of American Indian children. The new course started in July.
"We have Native American students from all over the country who are studying to be speech pathologists or audiologists that will go back to work with the Native American population," she said.
Loeb, who received a doctorate in speech-language pathology from Purdue University, said she also hopes to implement a course geared to other minority children.
"We're trying to really diversify the number of professionals that serve individuals with communication disorders," she said.
Several professors also are conducting research into communication and communication disorders. Some areas being studied include neuroscience, reading disorders and possible genetic causes related to language impairment.
"There's so many exciting things going on here," Loeb said. "We really try to get the students excited and involved early on in their undergraduate years."
U.S. News and World Report has ranked the graduate school's speech-language pathology program seventh in the nation for the last few years. The magazine also ranked the graduate school's audiology program ninth.
Copyright 2017 The Lawrence Journal-World. All rights reserved. This material may not be published, broadcast, rewritten or redistributed. We strive to uphold our values for every story published.