Once again, U.S. News & World Report has included Kansas University's School of Social Welfare on its list of the nation's Top 20 graduate schools for aspiring social workers.
That's six years straight.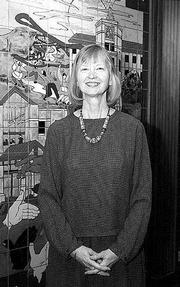 "The innovative work of our faculty is recognized both nationally and internationally," said Ann Weick, the school's dean since 1987. "We've been fortunate in attracting a faculty that excels at putting ideas into action."
The school, Weick said, has the reputation for being a good place for thinking outside the box.
In social-work circles, professor Charles Rapp is well-known for changing the way social workers view those with chronic mental illness. Instead of always focusing on their symptoms, which tend to be negatives, Rapp developed a technique for measuring and building upon their strengths.
"It's an approach that shifted the focus onto the person's capacities, talents and aspirations," Weick said.
"So instead of preoccupying ourselves with the problems, we are able to focus on the opportunities."
That change in focus, Weick said, revealed that many people coping with mental illness are, in fact, capable of safely supporting themselves in the community.
They don't have to be in a state hospital.
Forty states and several foreign countries have adopted Rapp's model, Weick said.
Professors published
Other ground-breaking projects in the school include:
A program organized by Deborah Page-Adams, assistant professor of social welfare, that encourages low-income families in Kansas City, Kan., to save money for home ownership, job training or entrepreneurship.
Exploration of the spiritual issues involved in social work by Ed Canda, professor of social welfare.
Work by Rosemary Chapin, associate professor of social welfare, in helping states determine the most efficient use of their services for the aged.
Several professors' studies on how children fare in foster care and other programs.
These are exciting times, Weick said, because five of the school's 26-member faculty are in "phased retirement" i.e. teaching fewer classes while one-fourth of the faculty has been at KU less than five years.
"We're in a transition right now," she said.
"We're benefiting from the experience and wisdom of our older faculty, while, at the same time, we have new faculty coming in who've recently completed their doctorals (or) are on the cutting edge of new ideas. I see us building a new future."
Time of transition
The school's curriculum allows students to develop an emphasis in mental health, long-term care, child welfare and policy analysis.
KU's School of Social Welfare expects to have about 600 students in its bachelor's, master's and doctoral degree programs this year. About half the school's students attend class at the university's Edwards Campus in Overland Park.
The school's graduate program has more than 400 students.
Last year, the school marked its 50th anniversary by raising $1 million for research and scholarships.
"That may not sound like much compared to, say, the geology department, but for a school of social welfare it's an incredibly substantial feat," said Rick Spano, associate dean for social welfare.
The school also has launched a series of workshops and courses aimed at keeping social workers up-to-date on trends and findings from around the country.
"We are committed to students who have a strong commitment to social justice and forming a compassionate response to people in need," Weick said.
"If they come to us with those qualities, then we are committed to making sure they have all the skills needed to be an effective social worker."
Copyright 2018 The Lawrence Journal-World. All rights reserved. This material may not be published, broadcast, rewritten or redistributed. We strive to uphold our values for every story published.