Kansas University's School of Engineering is looking in the mirror, so to speak. Last semester, the school began its accreditation process, which comes around every six years.
Dean Carl Locke said taking a close look at the school's degree programs, progress and shortcomings will help the school improve.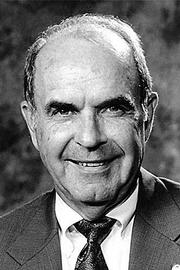 "We've been evaluating ourselves by assessing students' attitudes, alumni's attitudes and how happy companies are with our graduates," he said. "It's been a major event for the school, and it is changing some of the things we do. It's going to result in a better education for everybody."
One goal is to continue the hands-on work and national competitions that have become the school's trademark. Students have built formula cars, human-powered vehicles, modified snowmobiles, concrete canoes, model airplanes and internally controlled robots.
There's not much the students can't put together and win a medal for.
Last year's formula car team placed 18th out of more than 100 contestants in the nation.
"The team was a little disappointed, but I was proud of them," Locke said. "I even got to drive the car. That was very exciting."
Seniors can work on the formula car as part of their capstone course, and undergraduates can volunteer for the project.
Justin Rajewski has helped design and build a car every year since he was a freshman. As a senior this year, he plans to put 60 hours a week into the project.
"It seems like it's really hard at first, but it's very beneficial to put the work into it," he said. "I just love racing. It's something I want to end up doing."
Students break into four groups, and each is responsible for building a specific section of the car.
The goal is to come up with the fastest and safest model possible.
"We make almost everything but the engine, and we use the previous year's design to look at what was good and what wasn't good," Rajewski said. "There has to be constant communication between the teams so that the parts won't interfere with each other."
It's this type of hands-on experience that makes students viable in the job market, Locke said.
Focusing on recruitment
In addition to enhancing existing programs, the engineering school hopes to increase its visibility. The Engineering Student Council and administrators will play a vital role in promoting the school's merits.
"We'll be increasing our visibility in the months and years to come," Locke said. "We are trying to increase recruiting."
The school has 1,660 undergraduates and 660 graduates.
"The heavy focus is on undergraduates, but graduate research and projects are very important to us," Locke said.
Placing an emphasis on graduate research will be one of the school's main goals this year, he added. Several large-scale research projects are already underway.
One group of students is monitoring air quality on roadways throughout Kansas in an effort to pinpoint which areas contribute most to pollution. Another group works with Sprint Corp. to research telecommunication. Yet another team is looking for ways to enhance oil recovery from Kansas reservoirs.
"These projects will really have an impact on the community," Locke said. "They give us an opportunity to serve Kansas."
In another attempt to help the greater community, the school offers several of its degree programs at KU's Edwards Campus in Overland Park.
Administrators hired a new faculty member to strengthen the software engineering program in the Kansas City area. Also, they are looking at ways to increase distance-learning opportunities in the satellite engineering management program.
In other efforts to branch out, the engineering school wants to expand its civil engineering program in Topeka and its partnership with the KU Medical Center.
Helping guide careers
Locke said that no matter how successful students are on campus, they have to be equipped to succeed outside of KU as well. That's the theme behind the school's developing personality assessment project.
Two years ago, 100 students took a personality test that places people in one of 16 categories.
Last year, 400 took the test, and the involvement will grow this year.
"We are trying to put our efforts into career counseling and placement," Locke said. "The personality tests and strong interest surveys help guide (students) so that by the time they graduate with a degree, they understand themselves and what it takes to be successful in the engineering field."
Students who are a good match for engineering can flourish with adequate funding and facilities. That's why Locke's faculty and staff will pool their efforts for the university's capital campaign, a massive fund-raising effort that will build steam this year.
"For me personally, one of the major thrusts will be to complete funding on the new engineering building," Locke said.
"We're so close. Three-fourths of the funding has been promised or is in the bank."
The new building would be used primarily for electrical engineering and computer science classes, as well as administrative offices.
In the meantime, engineering students can enhance their time at KU by going to class and following what Locke calls the Mulinazzi 60 Hour Rule, named after former assistant dean Tom Mulinazzi.
The former dean used to tell students that they should not exceed 60 hours of weekly work including jobs, school and studying and that students should study two hours for every hour of class.
"He found that many students who dropped out or had trouble keeping up violated the 60 Hour Rule," Locke said. "Some students get mad at this idea and say they can do it their way, but I think it's a very effective guide for most people."
Copyright 2018 The Lawrence Journal-World. All rights reserved. This material may not be published, broadcast, rewritten or redistributed. We strive to uphold our values for every story published.