A new academic year brings the introduction of new programs to Kansas University's Graduate School.
The fall semester will mark the start of Preparing Future Faculty. The program will allow graduate students in education a chance to teach and work at other colleges and universities, and bring students from other schools to KU.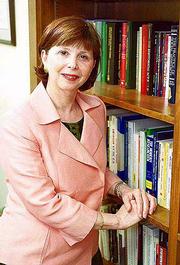 Spring marks the debut of a program called Preparing Future Professionals. It will give KU graduate students opportunities to explore career options outside the academic world.
"These are two really good companion programs," said Diana Carlin, the school's dean. "It brings a lot of recruitment possibilities to KU."
Carlin, now in her second year as dean, noted that the professional preparation program will introduce KU to graduate students from other universities.
They'll see what KU has to offer in research and teaching possibilities and doctoral programs.
Workshops will expose graduate and doctoral students to experts in fields outside the academic arena.
The program also will allow KU to network with businesses.
Learning in clusters
KU is known as a research institution, with instructors teaching only a few classes a week. Yet most education graduates and graduate students go on to other schools where they may teach several classes a day.
One of the keys to the faculty preparation program is a partnership with other schools, or clusters, Carlin said. Clusters might include a research institution, a liberal arts college, a community college or a minority college.
In KU's case, partnerships are being established with Haskell Indian Nations University in Lawrence and Howard University in Washington, D.C.
"What we're working for is expanding to include other schools over the next three years," Carlin said.
Universities with a more established faculty preparation program, such as the University of Nebraska, have as many as 12 schools in their clusters, she said.
A 'positive move'
Shannon Campbell, KU assistant professor of journalism, completed a faculty preparation program at the University of Texas in 1997. She is happy to see one established at KU.
"It really exposes the graduate student to the breadth of academics," she said. "If you're at a research institution, it gives you a chance to see other options. I think this is a very positive move for the Graduate School."
This year the Graduate School departments will develop and offer a post-baccalaureate certification program. It will provide a means for people in the professional world to take clusters of courses in other areas of interest without having to obtain a degree.
"It's also a way for some people to look at an area and decide if they do want to get a degree," Carlin said.
In the works
Other changes:
The school expects to take a big step forward next summer by offering and accepting student applications over the Internet.
Now the process primarily involves calling and asking for forms and then mailing them back in.
"Next year it will all be online," Carlin said. "Applicants can save some postage."
Handling the application process online also gives school administrators a chance to compile better information about the types of applicants, such as who is accepting KU offers and who is rejecting them.
In July, John Colombo, formerly a professor of human development and family life, began a half-time position as the school's associate dean.
One of the priorities for 2001-2002 is the school's capital program. No. 1 on the wish list is improving the graduate scholarship fellowship fund, Carlin said.
"If you don't have good graduate students, you will not have the kinds and quality of research projects that you need," she said.
Copyright 2018 The Lawrence Journal-World. All rights reserved. This material may not be published, broadcast, rewritten or redistributed. We strive to uphold our values for every story published.