Inefficient single-pane windows at Lawrence High School.
Schwegler School's leaking roof.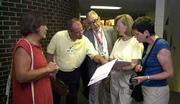 Dangerous gym bleachers at South Junior High School.
It was all on display Friday for members of the Lawrence school board on a tour of three elementary schools, three junior high schools and both high schools.
"It lends some perspective to how much we're piecemealing (repairs)," said Sue Morgan, Lawrence school board president.
She said the growing list of trouble spots at district schools would be factored into an upcoming facilities study.
The comprehensive study of district building conditions will lead to definition of what a prototype school in Lawrence should be and a plan for paying for the renovation and construction projects.
A consulting firm, DLR Group of Overland Park, will be hired to coordinate the review. The study may not be finished until early 2002.
"I'm learning that the list of projects that we get back (from consultants) will be bigger than we thought," Morgan said.
Board members Jack Davidson, Mary Loveland, Austin Turney, Leni Salkind and Morgan visited East Heights, Kennedy and Schwegler elementary schools. They also hit Southwest, Central and South junior highs. Stops at Lawrence High School and Free State High School completed the day's agenda.
Davidson said he wasn't pleased with a proposal to spend $100,000 to fix a safety problem with South's gym bleachers.
"I don't want to spend nickel one without a facilities study," he said.
But Salkind said people had been injured walking on the bleachers.
"Liability ... is an issue," Salkind said.
Salkind was surprised to learn of the leaking roof at Schwegler. Leaks are expected to be repaired before classes start Wednesday.
Already finished, to Salkind's relief, is a project at Central to renovate the room where musical instruments are stored. In the past, temperature and humidity shifts in the room had damaged instruments.
LHS Principal Dick Patterson took the board on a lengthy tour of the school. He pointed out cracks and decay on the school's brick exterior. He said walls, doors and windows needed replacement or repair.
Single-pane windows at LHS make it difficult to air condition the building.
"They really need to replace windows and doors with double-pane glass. It would pay for itself," Patterson said.
Staff writer Tim Carpenter can be reached at 832-7155.
Copyright 2018 The Lawrence Journal-World. All rights reserved. This material may not be published, broadcast, rewritten or redistributed. We strive to uphold our values for every story published.