Kansas University's School of Allied Health is undergoing growth and change these days.
During the last year, it received approval from the Kansas Board of Regents to admit students into two new doctoral programs rehabilitation science and therapeutic science.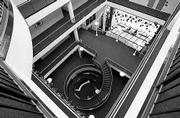 And the school has continued to expand its use of distance-education technology to make it possible for students to complete their coursework requirements over the Internet.
"Both of these new doctoral programs are innovative and take advantage of expertise on the health sciences campus here in Kansas City (Kan.). They're designed to make the most of interdisciplinary opportunities among all the schools here," said Karen Miller, dean of Allied Health.
"And we continue to get much more interest in what's available through (distance-education) technology, in particular our online courses, and we've been successful in that arena this year," she said.
Miller pointed to the school's extension program in Pittsburg for physical therapy students, now in its fourth year, as an example of the flexibility that distance-education technology provides.
Allied Health also offers extension programs to students outside the Kansas City area in nurse anesthesia and health information management.
Miller said the new doctoral programs, and the increasing reliance on distance-learning technology, were significant developments during the last year.
"We're the largest school of allied health in the Midwest, and our programs are nationally recognized. We present students an opportunity for a health-professions education of national renown," Miller said.
Cluster of professions
The School of Allied Health, along with the schools of medicine, nursing and graduate studies, comprise the academic units of KU's Medical Center.
The term "allied health," defined broadly, includes all of the health-related disciplines with the exception of nursing, medicine, osteopathy, dentistry, optometry, pharmacy and podiatry.
Ten academic departments form the School of Allied Health, offering 21 health-profession programs ranging from certificate to doctoral level.
Biometry is the only department that is nondegree-granting.
The school's annual enrollment is about 400 students, with more than 200 graduates annually.
This variety of programs prepares students to enter medical technology fields, to become practicing professionals and to enhance clinical and scholarly skills once they've gained some work experience.
Job opportunities appear to be wide open for the school's graduates.
According to information provided by the school, the allied health professions comprise more than 60 percent of the entire healthcare work force, and span more than 200 distinct disciplinary groups.
Approximately 2 million allied health professionals are employed in the nation today.
Satellite programs
One part of the school that has experienced change in recent times is Allied Health's nurse anesthesia program, chaired by Carol Elliott.
Sixty-five students are enrolled in the three-year, graduate-level program. Those students already have their bachelor's degrees in nursing as well as years of clinical experience, and are working toward a master's degree in nurse anesthesia.
Elliott said new education technology is playing a key role in the anesthesia program's distance-learning curriculum.
Ten to 12 of the students in the program are able to complete their coursework over the Internet while they remain in Pittsburg through the satellite program at Mt. Carmel Medical Center.
Another 24 students enrolled in nurse anesthesia participate in the program by distance learning and do their clinical work at Bryan Lincoln General Hospital Medical Center in Lincoln, Neb.
Students in both satellite programs come to the Med Center campus for two semesters of classroom education before going back to complete their clinical experience in Pittsburg and Lincoln.
"We're one of the leading nurse anesthesia education programs in the country that has instituted and implemented a significant portion of the curriculum via Internet distance education," Elliott said.
Seventy percent of all graduates of the program remain in Kansas or the Kansas City area to practice, Elliott said.
Opportunity to travel
Andrea Knapp is one of the students who has benefited from distance-learning technology in the nurse anesthesia program even though she lives right in the Kansas City area.
Knapp, who earned her bachelor's degree in nursing in 1995 from Baker University in Baldwin, will graduate from the Allied Health program in December.
"We communicate with our instructors, take exams, send scholarly papers everything that would have normally been fulfilled in a traditional classroom is done via the Internet," Knapp said.
This is accomplished even for those students who are on the Med Center's campus through audio-video streaming of the curriculum, e-mail, chat rooms, bulletin boards and specific Web sites for each class.
Lectures by professors and guest speakers are presented on the Web with Microsoft PowerPoint slides that feature accompanying voice-overs.
"Because of the unique way in which the program is designed, I've had excellent clinical and didactic experiences. I've had the opportunity to travel to Dodge City and Joplin, Mo., where I've gotten all of my open-heart anesthesia experience, my obstetrics experience and a lot of my pediatric experience," Knapp said.
Copyright 2018 The Lawrence Journal-World. All rights reserved. This material may not be published, broadcast, rewritten or redistributed. We strive to uphold our values for every story published.