Mark Desetti believes the Lawrence City Commission is about to save the lives and health of children in his west Lawrence neighborhood.
That's because the commission on Tuesday will consider installing devices on Harvard Road to slow down increasingly speedy drivers through the residential area.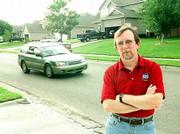 "We just think a residential street doesn't need people speeding down it," Desetti said Friday. "It's time to slow people down."
The proposed solution: "Traffic circles" will be installed at Harvard intersections with Grove/Mulberry Drive and Goldfield Street; and median islands will be placed along Harvard at Grove Drive and Justin Street. The total cost will be about $10,000.
All the installations will be temporary. City officials will study the effects on traffic to make a later recommendation on permanent solutions.
David Woolsey, the city's traffic engineer, said in a memorandum to city commissioners that many vehicles on Harvard travel at 35 to 40 mph and some cars have been recorded at speeds up to 60 mph.
Neighborhood residents began their quest for city assistance in March. Their efforts picked up steam in April when a young boy was struck by a car on Harvard while he was riding his bicycle.
"Basically, this is a concern for the safety of our children in this area," Desetti said. "We have a whole lot of kids who cross the street twice a day on their way to and from school."
Harvard Road residents attended meetings of the city's Traffic Safety Commission from May through July in an effort to come to a solution. Their work impressed city officials.
"Many residents of the neighborhood have worked very hard, doing research on traffic calming throughout the United States, developing their plan, going door-to-door throughout the neighborhood to get input from their neighbors and attending meetings, trying to make their neighborhood more livable," Woolsey wrote.
"They have developed what appears to be a reasonable method to reduce the speed of traffic along Harvard Road, making the street a safer place to walk and bicycle to and from school and throughout the neighborhood."
Assistant City Manager David Corliss said the neighborhood activity could be the beginning of a trend. Another group of residents persuaded the city to install similar devices at Schwarz Road and Sixth Street earlier this year.
"I think you're going to see more of this," Corliss said. "You've got neighborhoods with higher expectations of traffic control, you've got limited police resources, and you've got these innovative (traffic) devices coming into the market."
Copyright 2018 The Lawrence Journal-World. All rights reserved. This material may not be published, broadcast, rewritten or redistributed. We strive to uphold our values for every story published.