KANSAS CITY, KAN. — Dr. Michael Welch taps the keys on his laptop and the computer images of a human head appear on the screen.
The view is from the top, and it looks as if you are peering deep inside the gray matter of the brain. The inside of the head appears mostly dark, but at the back of one image there is something that looks like a large mass of light. Welch points to it.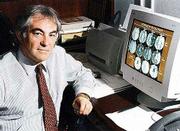 "Here is a burst of magnetic activity coming out of the back of the brain which is very abnormal," he said during a demonstration in his office at Kansas University Medical Center.
That abnormal image, Welch said, shows how a brain is reacting when someone suffers a migraine headache.
They are images that one day the Med Center will be able to develop with its own multimillion-dollar equipment.
That day will come sometime in the fall of 2002, when the Hoglund Brain Imaging Center opens.
Research at the center will involve two types of magnetic resonance imagers (MRI) for studying structural information about human and animal organs and tissue.
Another piece of equipment will conduct magnetoencephalography (MEG). That is the process of detecting electromagnetic fields emanating from the brain. It can show how the brain's electromagnetic fields reacts when certain tasks are performed and it can detect brain damage.
A look within
It also can create an image of a developing brain in a child or the brain of a fetus in a woman's uterus.
Studying the development of a baby's brain will be a primary focus at the brain center, Welch said. One of the goals is to learn how cerebral palsy forms in a brain, he said.
"It's a valuable thing to do because there is so little known about what the mechanism of cerebral palsy is," Welch said. "We don't know whether it's during delivery or in the development in the uterus that is the problem."
KU already has teams of scientists at the Med Center and in Lawrence studying normal and abnormal brain development in children, Welch said.
"It's a very difficult thing to do, but we have wonderful people studying child development," he said. "This will allow them to take their work into the uterus to see normal electronic development of a brain."
Brain imaging also should help physicians in explaining to mothers how their babies are developing.
"Maybe it will help us to be able to emphasize to the mother the importance of not smoking or not taking in alcohol," Welch said.
The two MRIs and the MEG will open up a new world of brain research at the Med Center. Used together or separately, the machines will allow researchers to do such things as see the development of mice while still in the womb or aid surgeons in developing a complete image of an individual's brain before surgery.
Better research can also be conducted on autism and strokes, Welch said.
None of the technology is new. Other similar brain imaging centers exist throughout the nation but not here.
"There is no state-of-the-art brain imaging center in this area," Welch said. "We need to have something like this for this region. It's intended to be a research source for a lot of the scientists in the Kansas City region."
Welch said the technology would be used "as an investigative tool" and not for treatment. "Patients who have disorders such as epilepsy can have an evaluation without having to have their heads opened up," Welch said.
The brain imaging center was made possible in the fall of 2000 when Forrest and Sally Hoglund, Dallas, gave $4 million to the KU Endowment Association for construction of the $2.8 million facility. Another $1 million in state funding will go to the center. Once built on the Med Center campus, it will continue to be supported with private gifts, state and federal funding.
Staff writer Mike Belt can be reached
at 832-7165.
Copyright 2018 The Lawrence Journal-World. All rights reserved. This material may not be published, broadcast, rewritten or redistributed. We strive to uphold our values for every story published.