Although the Kansas University School of Law is not rated as a first-tier school one of the top 50 in the country the dean of the school says it should be.
"It's one of my goals: not to be a top 50 law school, because we are, but it's to be recognized as such," said Stephen McAllister, dean of the school.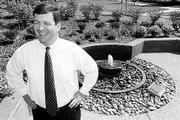 The school's reputation garnered a No. 45 ranking in a recent survey of lawyers and judges, McAllister said, but other qualifications resulted in a drop to second tier.
"We slip a little on the financial resources," he said.
To help raise the law school's profile and funds, McAllister spent his first year as dean crossing the country to drum up alumni support.
"I think some would say we may have a record for miles logged," he said. "We're trying to be connected to people after they leave the school."
Last year, Supreme Court Justice Stephen Breyer visited, and the upcoming school year won't be hurting for luminaries either.
Supreme Court Justice Antonin Scalia and Linda Greenhouse, who covers the Supreme Court for The New York Times, will both visit the school.
This year, the school is also gearing up for a capital campaign in order to increase student scholarships, McAllister said.
Real casework in school
Another priority is support of clinical programs where students assist attorneys with real casework while earning academic credit, he said.
"We have one of the strongest clinical programs in the country," McAllister said. "Only two schools offer more clinical opportunities than KU."
And those schools New York University and the University of Minnesota are larger, he said.
Each year, 200 to 300 KU law students participate in the clinical programs at places like the Douglas County Legal Aid Society, Elder Law, the Defender Project and prosecutors' offices or legislative clinics.
"I think many students would tell you it's one of the best if not the best experience in law school," McAllister said. "I think it's a real strength of the school."
Suzanne Valdez Carey, a supervising attorney in the Douglas County Legal Aid Society, agreed that clinical work was one of the best experiences for students.
The Douglas County Legal Aid Society represents indigent citizens in the area, usually in civil cases, she said.
"Up until the point you are involved in a clinic it's all in-class learning," Carey said. "The students do everything a lawyer would do, we just make sure it's getting done properly."
Carey, a 1996 KU law school alum, said her experience in a clinic inspired her to continue the same work after graduation.
"It was probably the best experience that I ever had," she said. "I was able to learn how to become a lawyer and then I was drawn to the public interest work."
Supportive environment
Daniel Dye, a first-year law student from Detroit, said he came to KU because his wife is from the Kansas City area. The two lived in Florida before moving to Kansas. Dye was "pleasantly surprised" at the campus and law school.
"The environment I found at KU Law isn't normally what you'd expect going into law school," he said. "It was a lot more supportive."
This summer, Dye is an intern at the Kansas City, Mo., law firm of Lewis, Rice and Fingersh LLC. He said the school's career services was very supportive and helped many students find internships.
But that doesn't mean there isn't room for improvement.
"The administration and some of the students are really trying to focus in on diversity issues," he said. "We need to let more people know what kind of program we have here at KU, and that it's an environment where people of all backgrounds and experiences can come and study."
Despite a few shortcomings, Dye is happy he chose a school he'd never visited.
"It's been great," he said. "If I had to do it over again, I would choose KU."
Copyright 2018 The Lawrence Journal-World. All rights reserved. This material may not be published, broadcast, rewritten or redistributed. We strive to uphold our values for every story published.