The treatment for tear gas is really quite simple: Sniff an onion to induce cleansing tears and drink hot fluid to soothe your throat.
It's something Deborah Gerner, a professor of political science at Kansas University, learned after she was tear-gassed in East Jerusalem on her birthday in 1989.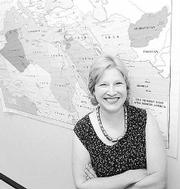 Gerner, an expert in the Middle East, also has had guns pointed at her and been in the presence of live ammunition more times than she cares to remember.
"I think I'm crazy sometimes," Gerner said. "It's very hard, it's discouraging, it's depressing."
Gerner visits the region at least once a year, has taught in Egypt and the West Bank, and has traveled extensively throughout the Middle East.
Gerner said her interest in social justice and peace began at an early age, but it wasn't until after she finished her doctorate that she really began to focus on the Middle East.
While in college, she also became a Quaker, a faith that believes violence is not an answer to conflict.
"My commitment to the Middle East and my Quakerism are very much entwined," Gerner said.
At KU, Gerner teaches Middle East politics, international relations, U.S. foreign policy and international mediation, and conflict resolution. She also directs the interdisciplinary master's program in international studies at KU's Edwards Campus in Overland Park.
Much of the time, she must overcome the negative stereotypes of the Middle East that many Americans hold.
"Of course, it isn't perfect, but there is much that is wonderful about the Middle East," she said. "In fact, it's a culture that has many dimensions that we would do well to emulate."
One of those cultural traditions is generosity, a trait that Gerner displays toward her students.
"Professor Gerner has been a great source of support for me both professionally and personally since I've left the school," said Jon Pevehouse, now a professor at the University of Wisconsin-Madison. "She's just been a great asset to me."
Pevehouse, a 1995 alumnus, sought Gerner as an adviser when he was an undergraduate. She was a "big reason" he choose to go into academics, he said.
"She made political science and international relations very interesting to study," he said. "In a way, she showed me the best possible way that you could go into academics."
Pevehouse said Gerner is universally regarded as a Middle East expert, especially in the politics of the peace process. She has written a book on the region, "One Land, Two People"; edited another, "Understanding the Middle East"; and published more than three dozen articles or book chapters.
She also has conducted some modest "confidence-building exercises" with people from different sides of the conflict, participated in nonviolent demonstrations and volunteered at the Palestinian Human Rights Information Center in East Jerusalem.
But still, fighting, distrust and car bombings continue.
"It does seem that we haven't made a great deal of progress over the past 20 years in resolving the conflict," she said. "There have certainly been times when I was much more optimistic than I am now."
But Gerner, whose passion is educating people, does not give up easily and continues her work toward peace.
"I feel compelled to speak out on behalf of nonviolent conflict resolution," she said, "This is the issue on which I've chosen to focus my life on."
Copyright 2018 The Lawrence Journal-World. All rights reserved. This material may not be published, broadcast, rewritten or redistributed. We strive to uphold our values for every story published.