Parallel parking might be tough, but finding a parking spot anywhere near the Kansas University campus can be even worse.
If you drive to campus there are three options park in a metered spot, buy a permit or park on a side street. If you plan on driving every day, it's vital to get a permit, students say.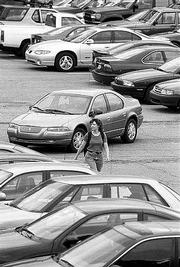 "If students live off-campus, they absolutely should get a permit," said Lane Hitchcock, a Prairie Village sophomore who lived off-campus last year. She didn't buy a permit for the fall semester but did get one for the spring.
"I was getting a ridiculous amount of parking tickets," she said. "If you're always late, you need a permit."
Parking lots are divided into color zones, with the red, blue and gold zones reserved for faculty and staff. Students can purchase permits for yellow zones and residence halls at $85 for the year.
Although there are more than 5,800 yellow spots, the parking department regularly sells more than 6,000 permits, said Diane Hultine, assistant director of the parking department. The story is the same in residence hall lots, where the 2,900 spots are oversold every year.
"I think that sometimes when people buy a permit they think that guarantees them a spot," Hultine said. "But I would just like them to know that is not the case."
She recommended that all options such as walking or riding a bus or bike be considered before buying a parking permit.
One popular option is the Park and Ride system. For $75 a semester or $130 a year, students get a permit to park in the Lied Center lot on West Campus and ride the KU on Wheels buses to campus. Only 1,000 passes will be available for the 2001-2002 school year, "so if they want that they need to choose early," Hultine said.
Parking permits can be purchased on the optional campus fees form during orientation or directly from the parking department, on Irving Hill Road in the northeast corner of the Allen Fieldhouse parking garage.
The main road on campus, Jayhawk Boulevard, has limited access during the day. Hultine said the main reason is to protect people on foot.
"People really need to understand this is a pedestrian campus and the easiest way to get around is to park your car and walk," she said.
Last year, the parking department opened a parking garage north of the Kansas Union. Of the more than 800 spots, 500 are metered parking, 200 are for student permits and 100 are for employees.
Hultine said use of the garage has climbed, especially because of its proximity to campus.
And whether it is a permit, meter or in parking garages, all parking on campus is regulated. A meter ticket is $5 and a permit violation is $20. If fines aren't paid, enrollment and transcripts can be withheld.
If you are being ticketed, Hitchcock recommends showing the meter reader some kindness.
"A lot of people in the parking department are very nice," she said. "Treat them with respect and be nice and they'll be nice to you."
So, how do you get to campus if you don't want to drive? Two bus systems KU on Wheels and the Lawrence Transit System (The T) both serve campus.
KU on Wheels serves residence halls, apartment complexes and other areas with a high density of students. Mike Appleby, the campus transportation coordinator, said each year almost 2 million rides are taken on KU on Wheels, and 10,000 to 15,000 bus passes are purchased.
The T, which started in December 2000, made changes in the spring to better serve campus riders, said Karin Rexroad, public transit administrator.
"Not only can the T take students to campus, but we can take them to places that KU on Wheels cannot which is retail and other areas of the community," she said.
Copyright 2018 The Lawrence Journal-World. All rights reserved. This material may not be published, broadcast, rewritten or redistributed. We strive to uphold our values for every story published.