Mindy Kenagy can't use the word "convenient" enough when describing the Edwards Campus, Kansas University's outpost in the Kansas City area.
Kenagy cites hassle-free parking, a 10-minute drive from her home and a top-notch computer lab and library as reasons why she takes classes at the Edwards Campus, near 126th Street and Quivira Road in Overland Park.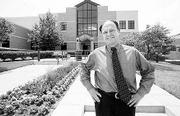 "I did commute to Lawrence for a year," she said. "But moving to Lawrence wasn't an option, and I didn't want to be traveling."
Kenagy, who expects to graduate in May 2002 with a master's degree in social welfare, said her experience at the Edwards Campus has been "overwhelmingly positive."
"They need some kind of food service or a caf she said. "Everything else is just very convenient."
While the campus opened in 1993, KU has had a presence in the Kansas City area for 25 years. It previously was known as the Regents Center.
During the past four years, master's degree programs at Edwards Campus have doubled from 10 to 20.
This fall two undergraduate programs will be added molecular biosciences, plus a program focusing on language, literature and writing.
"This is kind of a unique campus in that we stand here to bring the quality faculty and programs from the home campus to the people here in the greater Kansas City community," said Bob Clark, vice chancellor for the campus.
"We're in Overland Park but we're the University of Kansas, period."
Most faculty commute from the Lawrence campus to the Edwards Campus, giving students in Kansas City access to professors from a major research institution.
Clark said that more people were choosing to work on a graduate degree while also working full-time. Graduate enrollment is declining on the main campus, he said, but rising at the Edwards Campus.
"We're satisfying a kind of a shift in approach to a grad program," he said. "This campus works toward economic and community development. We breed a new kind of energy into the system of KU."
The campus serves about 2,100 students per semester, he said.
This summer, the Hall Family Foundation of Kansas City, Mo., donated $42 million to KU $5 million of which will go to the Edwards Campus. Clark said the money would be used to start construction on the first of three planned buildings.
"That's pretty significant because the capacity we have in this building is limited," he said.
Clark said plans for future buildings include an auditorium with a video link to the Lawrence campus, giving Kansas City audiences access to major speakers or presenters at KU.
"That's a clear example of bringing the strength of a research university that's 40 miles away to the heart of a metropolitan area," he said.
Elaine Warren, director of public relations for the Edwards Campus, said about 150 professors worked at the campus, usually teaching courses in the afternoon or evening.
"All the programs are geared for the working professional in Kansas City," she said. "Ninety percent of the students are working professionals, with families and very busy schedules."
Marshaun Butler is one of those working professionals. Twice a week, she makes the 30-minute commute from her job as a planning analyst for Health Midwest, a Kansas City, Mo., health care system.
She is working on a master's degree in health policy and management.
Butler said she could immediately apply what she learned in class to her job.
"In my opinion, it's definitely better to go to class and work at the same time," she said. "You can actually relate to the information a little better."
Butler, who previously attended Fisk University in Nashville, Tenn., said she felt at home on the Edwards Campus. Professors understand that most students also have full-time jobs, she said.
"They're just very good at helping you juggle your course work and what is expected of you on the job," she said. "It's been a great experience."
Copyright 2018 The Lawrence Journal-World. All rights reserved. This material may not be published, broadcast, rewritten or redistributed. We strive to uphold our values for every story published.