Its brick facade, spires and terrazzo floors are still intact after more than 80 years.
Several community residents believe there's plenty of life left in the old Ottawa Middle School building, a historic structure on both the Kansas and National Registers of Historic Places. But the Ottawa school board is proceeding with demolition plans the third such proposal since 1996.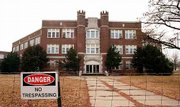 Members of the Friends of Historic Places hope a developer or interested party will take on the much-needed renovation project.
"If we can find a developer to do it as a venture on their own, we would like to see some public use with the existing theater and gyms," said Bob Marsh, a Friends member and retired architect. "We have to keep making the argument and hope someone will step forward."
Meanwhile, the school board has applied to the Kansas State Historical Society for a demolition permit, a required step because of the building's historic designation.
During Monday's 6:30 p.m. meeting, the board will vote to schedule a public hearing giving people a chance to talk about preservation in wake of the demolition plans.
School board president John Coen said the building's fate was sealed when a potential developer, Pioneer Group, Topeka, pulled out of a renovation deal in March. The group had intended to lease the building for office space but decided the project wasn't financially feasible and backed out of the contract.
"I don't think anyone is dead set on demolishing that building, but our opportunities are becoming increasingly smaller," he said. "Letting it fall into disrepair is not an option. It sits right by our downtown. We need to either tear it down or renovate it."
If no developer comes forward or if other viable plans aren't presented, Coen said the school board must proceed with the demolition plans and sell the land. He said the school district, city and county officials have said they aren't interested in putting tax dollars into the building.
"I just see this as a cloud over our heads, and we can't move on with other education issues without resolving this," he said.
Linda Marks, a Friends group member, said she doesn't view the building as a burden but as a chance to have a community building or recreation center. She said she will ask for the school board's approval Monday to place yellow ribbons around the trees on the old building's property because she wants to save the building.
"It is the anchor of main street, and it's a piece of history," she said. "Once it's torn down, it can't be replaced."
Copyright 2018 The Lawrence Journal-World. All rights reserved. This material may not be published, broadcast, rewritten or redistributed. We strive to uphold our values for every story published.